Nick Mourouzis, DePauw's All-Time Winningest Football Coach, to Retire at Season's End
August 16, 2003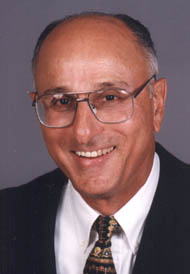 August 16, 2003, Greencastle, Ind. - Nick Mourouzis, DePauw University head football coach and professor of kinesiology, announced his retirement today effective at the conclusion of the 2003 football season. The announcement comes on the day that over 130 players reported for the start of DePauw's 116th season of intercollegiate football. (photo by Marilyn E. Culler)
Mourouzis enters his 23rd season as the winningest coach in DePauw football history in terms of total victories with a 133-82-4 record with the Tigers. The 133 wins rank in a tie for 10th among all active NCAA Division III coaches, second among active Indiana collegiate coaches and fourth all-time in the state's history.
"As I begin the 45th year of my coaching career, I find my enthusiasm and love for what I do has not diminished since the day I began," Mourouzis said. "But I feel it's time to wrap up my coaching career and let someone else take over after this season."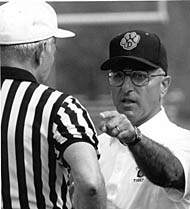 "'Coach Nick', as he's known to all of us in the DePauw family, has a legendary record on and off the football field," says DePauw University President Robert G. Bottoms. "He stresses character and integrity along with football skills. Nick's enthusiasm for DePauw has attracted many student-athletes who were considering larger schools and in some cases athletic scholarships, to come to DePauw [as a Division III school DePauw does not offer athletic scholarships]. The many graduates who played for Nick regularly return to campus to visit with him. This is testimony to the strength of the bonds he's created on campus." Dr. Bottoms added, "I wish him well in retirement. In addition to all Nick has meant to the University, I have always considered him a close personal friend."
"Nick has had a tremendous, positive impact on the student-athletes he has coached and the students he has taught in his role as a professor," DePauw Director of Athletics Page Cotton said. "His impact on our staff as well as the DePauw and Putnam County communities is profound."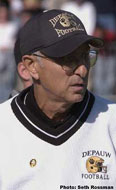 A nationwide search for a successor to Mourouzis will begin soon, says James L. Lincoln, Vice President for Student Services, who, along with Cotton, will lead the process. "I'm not certain there's a way that Nick can possibly be 'replaced' -- in the true sense of the word," Lincoln says. "Nick is a dedicated, energetic and committed individual who has shaped thousands of lives and made our program one of the best of its size in the nation. We will soon commence a careful, broad-based and inclusive search for DePauw's next football coach, mindful all the while of the many qualities that Coach Nick possesses that have made DePauw football so successful."
Nick Mourouzis' .616 winning percentage ranks second in DePauw history behind the mark of .688 by legendary Raymond "Gaumey" Neal for coaches with at least five years of experience at DePauw. That percentage also ranks in the top 50 of active Division III coaches with at least five years experience and eighth among those with at least 20 years.

Mourouzis' 23-year tenure is also the longest in school history ahead of Tom Mont's 18-year stint from 1959-76 and he is just the eighth DePauw coach since 1930. His entire football coaching career has spanned six decades following his graduation from Miami (Ohio) in 1959.
Mourouzis has established his legacy off the field as well as he founded Chi Alpha Sigma in 1996. The nation's first collegiate scholar-athlete honor society is represented at more than 60 colleges and universities in over 20 states.
In his first season at DePauw in 1981, Mourouzis immediately made an impact as he led the Tigers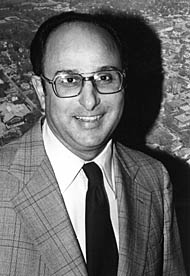 to a school-record nine wins against just one loss and the team finished the season ranked ninth in the final Division III poll. Rob Doyle '82, now an Indianapolis attorney, was the starting quarterback for that team. "I remember when Nick came to campus and met with the team for the first time. He told us this was his dream job and that he would retire as coach of DePauw University. He's kept his word and brought DePauw football to a long-term level of success. Nick loves the game, and the kids -- his passion hasn't diminished a bit. He's a unique guy, and sports could use more coaches like him. He'll be missed."
Mourouzis was named the Southern Collegiate Athletic Conference Coach of the Year in 2000 after leading the Tigers to a three-way share of the league title. Mourouzis was named the Indiana Collegiate Athletic Conference Coach of the Year in 1996 and 1990. He directed the 1996 Tigers to a 9-1 overall mark and a 6-0 record in ICAC play and the 1990 team to a perfect 7-0 record in conference play and an 8-2 overall mark.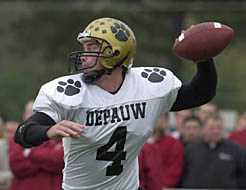 Mourouzis has turned the Tigers' offense into one of the premier passing attacks in Division III. In a study conducted by Jim Doan at UC-Davis, DePauw ranked seventh in passing efficiency among NCAA Division III schools from 1980-1989. Under Mourouzis, the Tigers have made their mark in several Division III rankings. The 1996 Tigers led all of Division III in turnover margin with a +2.5 average. The Old Gold also was the eighth-ranked passing team in Division III. In 1988 the Tigers threw for an average of 258 yards per game, the sixth highest average in the nation. The 1983 DePauw team was ranked number one in the nation against the run, seventh in total defense and 13th in scoring defense. The Tigers' passing attack, which racked up 2,400 yards in 1987, ranked 13th as did the team of 1984. In 1985, the offense and defense each cracked the top 20, with the passing game rated 17th with 224.1 yards per game and the defense allowing only 116.8 yards per contest, ranking 19th. The 2001 squad ranked 15th in passing offense, while the 2002 team finished 24th.
As a player, Nick Mourouzis earned three varsity letters and quarterbacked Miami, under the direction of head coach John Pont, to a Mid-American Conference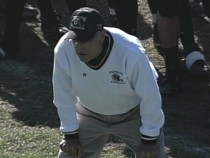 championship in 1958. He was part of three conference championship teams in his four years. In those four years, Miami compiled a 28-7-1 record.
He began his coaching career as a graduate assistant under Bill Hess at Ohio University from 1959-1961. The 1960 Bobcats captured the small college national championship.
In 1961, Mourouzis moved on to Kettering Fairmont (Ohio) High School, where he was assistant football and head track coach. That year, the football team finished 8-0-1 and was ranked sixth in Ohio,
while Mourouzis' track squad finished with an undefeated dual meet season.
From there, he moved back into college coaching with assistant coaching stints at Ball State (1962-63), Ohio University (1963-65), Indiana (1965-73) and Northwestern (1973-81). As an assistant coach, Mourouzis got all the training he needed to become a head coach as he coached every position prior to his appointment at DePauw.
At Ball State, he coached the offensive and defensive lines under head coach Ray Louthen. In his first season at the Muncie, Indiana, school, Mourouzis helped coach the Cardinals to their first winning season in five years. In his two seasons at Ohio University the Bobcats won back-to-back Mid-American Conference titles.
In 1965, he rejoined Pont to be part of his staff at Indiana. That included the Hoosiers' 1968 Rose Bowl appearance against the University of Southern California.
Mourouzis went with Pont to Northwestern in 1973, coaching the quarterbacks, receivers and pass offense. After Pont left in 1977, Mourouzis remained with the Wildcats under head coach Rick Venturi in the same capacity. During that time the team ranked first or second in the Big Ten in pass offense four of his five years there. "The 16 years I was an assistant coach in the Big Ten Conference and my 22 years as head coach here at DePauw have been extremely enjoyable and gratifying," Mourouzis noted. (action photo by Marilyn E. Culler)
"Coach Nick" was honored at the American Football Coaches Association convention in New Orleans in January 1997 with the organization's 35-year award. He also has published several articles on football and coaching with the latest appearing in the spring of 1997 in the American Football Quarterly on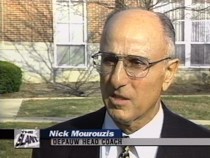 "Scientific Approach to Kickoffs." He also presented a session on special teams skills and fundamentals at the 2003 AFCA Convention in New Orleans (photo shows Mourouzis on FOX Sports in 1999).
In February 2001, Mourouzis earned the Distinguished American Award from the central Indiana chapter of the National Football Foundation for his lifetime commitment to football and for making significant contributions toward bettering amateur football in the United States. He was inducted into Miami's Cradle of Coaches in 2003, joining legendary coaches such as Pont, Weeb Ewbank, Paul Brown, Ara Parseghian, Bill Mallory, Walter Alston and Woody Hayes. In 2003, the Urichsville, Ohio, native was named the Alumnus of the Year by the Claymont Foundation.
"I've loved working with and guiding our football players, helping many players and young graduate assistants enter this rewarding profession and teaching and sharing ideas with my assistant coaches,"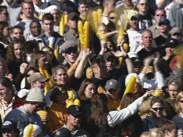 Mourouzis said. "I figure I've spent twice as much time with all these people than I ever did with my wife and children and now I feel it's time to spend more time with the ones who have been so supportive of me all these years."
Mourouzis and his wife, Marilyn, reside in Greencastle and are celebrating their 44th wedding anniversary today. Their family includes daughter Pam and her husband Matt McClure and son Ted and his wife Susan along with grandchildren Jack, Emma and Nick Mourouzis. "I look forward to being a fan, a writer and a better golfer and fishing more with my grandchildren," he added. "The National College Athlete Honor Society that I founded in 1996 will receive more of my attention also."
To visit the DePauw football program's Web page, click here.
MOUROUZIS' RECORD at DEPAUW
| | | | | | |
| --- | --- | --- | --- | --- | --- |
| Year | Wins | Losses | Ties | Pct. | Conference |
| 1981 | 9 | 1 | 0 | .900 | N/A |
| 1982 | 8 | 2 | 0 | .800 | N/A |
| 1983 | 7 | 3 | 0 | .700 | N/A |
| 1984 | 6 | 4 | 0 | .600 | N/A |
| 1985 | 8 | 2 | 0 | .800 | N/A |
| 1986 | 6 | 4 | 0 | .600 | N/A |
| 1987 | 7 | 3 | 0 | .700 | N/A |
| 1988 | 4 | 5 | 0 | .444 | N/A |
| 1989 | 6 | 2 | 2 | .700 | 3rd (tie) |
| 1990 | 8 | 2 | 0 | .800 | 1st |
| 1991 | 6 | 4 | 0 | .600 | 2nd (tie) |
| 1992 | 4 | 4 | 2 | .500 | 2nd (tie) |
| 1993 | 2 | 8 | 0 | .200 | 6th (tie) |
| 1994 | 2 | 8 | 0 | .200 | 6th |
| 1995 | 3 | 7 | 0 | .300 | 7th |
| 1996 | 9 | 1 | 0 | .900 | 1st |
| 1997 | 8 | 2 | 0 | .800 | 2nd |
| 1998 | 7 | 3 | 0 | .700 | 2nd |
| 1999 | 5 | 5 | 0 | .500 | 4th |
| 2000 | 6 | 4 | 0 | .600 | 1st (tie) |
| 2001 | 5 | 5 | 0 | .500 | 3rd |
| 2002 | 7 | 3 | 0 | .700 | 2nd |
| TOT. | 133 | 82 | 4 | .616 | |
Back