361° and DePauw Spotlighted on TV's Inside Indiana Business -- See Clips Here
August 18, 2003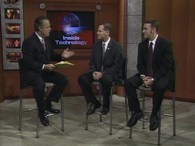 August 18, 2003, Greencastle, Ind. -
[DOWNLOAD VIDEO: "Program Introduction" 955KB] "It's an innovative program we first told you about a couple of years ago -- making technology the center of education and innovation at DePauw University -- and that program is indeed paying off," said Gerry Dick, host of Inside Indiana Business in the edition of the television program that aired statewide over the weekend. "The 361° Initiatives have enabled DePauw to become the first liberal arts college ever to receive the prestigious EDUCAUSE Award," Dick continued as he introduced his guests, Dennis Trinkle, director of 361° initiatives, coordinator of information services and technology, and Tenzer University Professor in Instructional Technology at DePauw; and Kyle Maynor, a 2001 DePauw graduate who is a systems analyst at Eli Lilly & Company.
DePauw recently learned that 361° is the recipient of a 2003 EDUCAUSE Award for Systemic Progress in Teaching and Learning. Dick noted the uniqueness of the University's offering, and Dr. Trinkle said,
[DOWNLOAD VIDEO: "The Award" 900KB] "It does seem a little odd to think about a liberal arts college in terms of technology,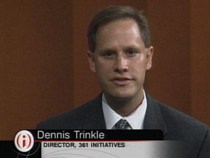 but we realize that DePauw has always prepared students for the world, and the world's changed. DePauw needed to match the new business, cultural and economic environment and the EDUCAUSE Award recognizes that we're doing that in the learning process and the teaching process. We've changed what's happening in the classroom, we're changing the preparation that students get: it's paying off," Trinkle added.
In February 2001, DePauw University received a $20-million grant from Lilly Endowment to establish a national technology center and launch a series of initiatives to guarantee that the university's 2,350 students, faculty, and staff will be equipped to provide the creativity and leadership required by the digital age. The name of the resulting model -- "361°" -- refers to DePauw's goal that these initiatives will prepare students for every degree of life and for creating the future. DePauw's efforts reinforce the institutional emphasis on critical thinking, problem-solving, interpretation, learning
through experience, and learning through reflection. In this context, information technologies are integrated into curricular and co-curricular activities as a liberal art rather than in a skill-based approach, and IT tools are used as a scaffolding for discussion.
[DOWNLOAD VIDEO: "The Grant & The Opportunity" 794KB]"When Lilly Endowment gave us the $20 million grant, it gave us the opportunity to step back and look at liberal arts college education at DePauw University and figure out how we could continue to make it relevant and even more successful for the digital age," said Dr. Trinkle, a 1991 DePauw graduate. "361° is the programs and initiatives that we came up with to touch every aspect of the academic life at DePauw University; to make it a University that will give students all the preparation they need for the digital age."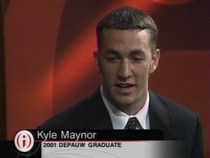 Kyle Maynor, who helped implement the early stages of 361°, told the program,
[DOWNLOAD VIDEO: "Kyle Maynor '00" 800KB] "has given me an opportunity to better prepare for making that change from a student to an employee. In the IT field especially, that's a very difficult change to make." In particular, Maynor says the communication skills he learned at DePauw within the liberal arts setting have made him a better systems analyst.
[DOWNLOAD VIDEO: "361° Experiences" 1004KB] "I was given the opportunity to lead training workshops -- specifically, I led a computer networking training workshop -- and just a couple of days ago I led a training workshop at Eli Lilly. People don't always understand how much it helps to be able to get opportunities like this in college to prepare for the workplace. I was also given the opportunity to do an internship [and] development work for a system that they use at DePauw in the classroom."
In closing, Trinkle noted that 361° is always looking for new internship opportunities for its students.
[DOWNLOAD VIDEO: "Internships" 679KB] "The internships are at the heart of what we're trying to accomplish. For the coming year, we're really interested in more and broader partnerships with start-up companies, small business and mid-sized businesses. We have a lot of talented students like Kyle at DePauw who are eager to get out and make a difference in Indiana's economy. We've got a lot of students who come to Indiana for the first time who'd like to stay here, too."
Read more about the EDUCAUSE Award by clicking here. For more information on 361°, click here.
Source: Inside Indiana Business
Back