DePauw Internship Opportunities "Unparalleled"; Among Findings of Annual Survey
August 19, 2003
August 19, 2003, Greencastle, Ind. - DePauw University's fraternity and sorority system is the strongest of any college in America, according to Princeton Review's annual book highlighting America's top schools, The Best 351 Colleges: 2004 Edition, which arrives in bookstores today. The unscientific, random survey of 106,000 students at the nation's top colleges ranks DePauw as #1 in "major frat and sorority scene"; it ranks WGRE as the #3 college radio station in the country; DePauw is #18 for "students happy with financial aid"; and #19 for "more to do on campus".
"All of the colleges in this book are academically outstanding," says Robert Franek, the book's lead author. "We present ranking lists in multiple categories for one reason: to help college applicants and their parents decide which of these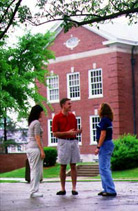 great colleges is best for them, given their personal priorities and interests."
Princeton Review calls DePauw's campus "beautiful" and "easy to get around," and notes that the University has "great computer facilities" and a "great library." The editors write, "Chief among DePauw's innovations is Winter Term, a month-long session during which students can pursue 'many outstanding opportunities to do things you can't do in the classroom.' Winter Term allows students to undertake 'international and undergraduate research opportunities that are unparalleled.' Dedicated instructors greatly enhance the Winter Term experience. Recounts one undergrad, 'Professors are awesome, so accessible. I went on a trip for Winter Term with my Latin professor and had a blast. Professors here are your friends as well as your teachers.'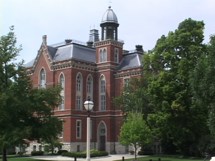 Students also appreciate the fact that 'class sizes are small, yielding great personal relationships with the professors.'"
The Review also ranks DePauw #8 among "party schools". Vice President for Student Services James L. Lincoln stresses that "this is not a study, it is a survey, and a highly unscientific one at that. Because of that, we take all of the findings -- good and bad -- with a rather large grain of salt."
On March 4, DePauw University President Robert G. Bottoms told students, faculty, administrators, staff and others who packed Kresge Auditorium that all need to work together "build a more responsibile community," and reduce alcohol abuse and related at-risk behaviors (read more here). "The responsibility significantly rests upon our students to define clearly what kind of community DePauw should be," Dr. Bottoms said in his speech. "What kind of living units should we have? What is our feeling about alcohol abuse, and what can we do before injuries or even death occur on our campus?"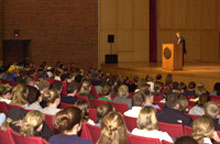 "The problem of substance abuse is not a 'DePauw problem' -- it's an issue on virtually every American college campus," says Lincoln. "What is different about DePauw is that we have been proactive in talking about the issues of responsibility and are working -- at every level of the University, from students and faculty to alumni -- to address problems and solutions. Princeton Review's findings, which again are not scientific, reinforce the false notion that college is all about partying and drinking."
Lincoln points to the National Survey of Student Engagement (NSSE), a statistically reliable study released last November, which found that DePauw outpaces peer institutions and national averages in every category, including enriching educational experiences, supportive campus environment and level of academic challenge. "The NSSE determined that students at DePauw spend more time than their peers studying, preparing for class and volunteering for community service projects" (read more here).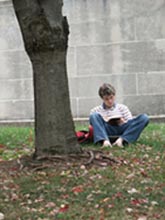 DePauw is currently analyzing the 2003 NSSE results, which, according to a preliminary analysis, show continued improvement in the key benchmarks of effective educational practice.
U.S. News & World Report (which does use much stricter methodology than Princeton Review), ranks DePauw in the top tier of America's national liberal arts colleges for its students, faculty, programs and campus life and facilities (read more here).
"DePauw has much to be proud of, and we can say with certainty that with the dialogue that's underway and the programs already in place it will be an even stronger institution in the years to come," Lincoln added.
Back