New York Times Publishes Essay by Prof. Lili Wright
August 19, 2003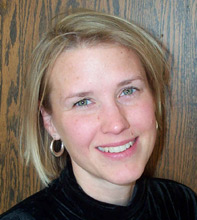 August 19, 2003, Greencastle, Ind. - "Without a doubt, ferries are my favorite way to travel. I would take a ferry to California if I could. I would take a ferry to France," writes Lili Wright, assistant professor of English at DePauw University, in an essay published in the travel section of Sunday's New York Times. "A ferry trip feels like a clean beginning, an ending to whatever happened before. As you leave land behind, you also leave behind that worn-out, crusty you who had lost her sense of humor and possibly her grace. In a world of express flights and commuter shuttles, the ferry is a throwback to the days when travel was difficult, when goodbyes were taken seriously, when every major departure was truly a rite of passage," the professor writes.
Since childhood, Wright has spent her summers riding a ferry from "Rockland, Maine, to the island of North Haven, where my grandparents bought a summer house 45 years ago ... Summer officially began -- and ended -- on the North Haven ferry. Thirty years later, it still does," she asserts.

"I suppose my love of ferries is related to my love of islands. It does my soul good to be surrounded by water, remote, cut off. It's hard to ship freight to an island, so there is less stuff to buy, admire, think you need. It's hard to get to an island, so only close friends make the journey. An island has a definite border, a clear sense of identity and history. You are not merely somewhere
near Long Island Sound, you're on Block Island. And you probably got there by ferry."
Later, Lili Wright adds, "One by one, the cars roll onto the boat, and you see the ferry drop every so slightly with each new weight. As the boat pulls away, everybody starts to wave. It takes a while for the ferry to chug past the boats anchored near town, but no one wants to be the first to give up waving, so we keep at it, even when the passengers are just blurs in the distance, tiny dabs of color. This simple ritual moves me; it's one of the few times I stop and think about the people who are leaving and what they mean to me."
You can access the complete essay, which notes "Lili Wright teaches creative
writing at DePauw University," at the Times Web site by clicking here (a free registration is required).
Professor Wright wrote another essay, "Learning Spanish: A Tense Undertaking," which was published in the May 4, 2003 edition of the Times. Read more here. Lili Wright also authored a novel, Learning to Float, which was published by Broadway Books, an imprint of Random House, in June 2002 (read more here and here).
Back