Indianapolis TV Station Reports on Rector Village Construction
August 19, 2003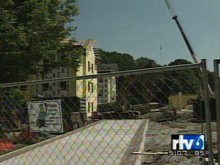 August 20, 2003, Greencastle, Ind. -
[DOWNLOAD VIDEO: "See the TV Clip Here" 983KB] "Rector Hall burned 16 months ago on the campus of DePauw University, but there is new life going up on this lot now," began a story that aired on Indianapolis ABC affiliate WRTV during today's 5 p.m. news. The brief piece included footage of construction of Rector Village, which is proceeding at the former site of Rector Hall (read more here). Anchor Ray Cortopassi noted that two of the seven townhome-style buildings will be ready for the spring semester.
"They'll be suites for 8 or 4 people per suite," assistant dean of students and director of housing Dorian Shager told the TV station of the new buildings, which will feature single rooms. "They all have a kitchen, living room, two private bathrooms, you can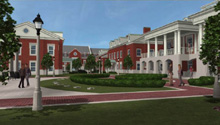 live with a group of your friends -- just a lot more amenities," he said.
Read the original announcement on Rector Village by clicking here. Learn more about the fire at Rector Hall here, here and here.
A story on the demolition of Rector Hall, including video clips, can be accessed by clicking here.
Source: WRTV (ABC)/Indianapolis
Back