Nancy (O'Donnell) Hellyer '77 Named President and CEO of Saint Joseph Medical Center
August 21, 2003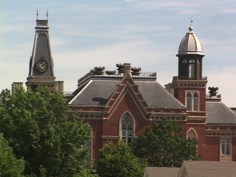 August 21, 2003, Greencastle, Ind. - Nancy (O'Donnell) Hellyer, a 1977 graduate of DePauw University, has been named the new president and chief executive officer of Saint Joseph Regional Medical Center Inc., based in South Bend, Indiana. Hellyer comes from Alexian Brothers, a Catholic health care system based in Elk Grove Village, Illinois, where she was president and CEO. She assumes her new position October 1.
"Nancy emerged from a field of very talented candidates as being the best equipped to meet our expectations of excellence in employee pride, physician confidence and patient loyalty,'' says Dr. Paul F. Howard, chairman of the SJRMC Inc. board.
A story in today's South Bend Tribune notes, "Hellyer will be joining SJRMC Inc. --
a member of Novi, Michigan-based Trinity Health, the country's fourth-largest Catholic health system -- as it continues to wrestle with major decisions about its facilities. SJRMC Inc. announced plans early last year to consolidate two of its hospitals, in South Bend and downtown Mishawaka, into a new facility on the north side of Mishawaka. Planning for that project has been on hold, however, as administrators have attempted to improve the medical center's financial picture."
The article also states that "Hellyer began her health care career in Indiana as a staff nurse at Methodist Hospital in Indianapolis. She is a DePauw University graduate." You can access it by clicking here.
Back