Presidential Candidate, CNN Military Analyst and 4-Star General Wesley Clark to Deliver Ubben Lecture September 23
August 22, 2003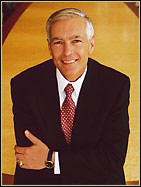 August 22, 2003, Greencastle, Ind. - "The smart money doesn't give the leading Democratic contenders much of a chance against W," writes Tom Junod in the August issue of Esquire. "Maybe no one has a shot. But there's one guy who can make it interesting." The subject of that article, and many other news stories, General Wesley K. Clark (Ret.), former commander in chief of the United States European Command, former Supreme Allied Commander of NATO and (as announced Wednesday, September 17; read more here) 2004 presidential candidate, will come to the DePauw University campus Tuesday, September 23, 2003 to deliver a Timothy and Sharon Ubben Lecture, "Facing America's Challenges." The speech, which like all Ubben Lectures is free and open to the public (see list of past speakers here), begins at 7:30 p.m. in Neal Fieldhouse of the Lilly Center, 702 S. College Avenue.
General Clark has become a very familiar face to television viewers as CNN's military analyst, providing expert commentary on the invasion of Iraq, the war on terrorism and American foreign policy. An early critic of the war on Iraq, the general told Newsweek this month, "I think you have to go back to the logic of why we went. The administration's case was, to put it mildly, weak. A) The Iraqi threat to the US wasn't significant; B) there were other ways to work the issue,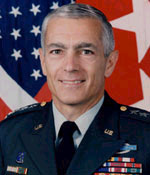 and C) the threat wasn't imminent—at least, in so far as any evidence anyone has been able to present has established." Clark added, "I thought it was a problem to be dealt with in parallel with the war on terror, with its own pace and timing and to be worked on through the United Nations and other nations, rather than as the centerpiece in the war on terror. We're there now and the principal connection with terrorism we've found is that terrorists are coming in to attack us."
Clark, former Supreme Allied Commander of Europe, retired as one of the nation's most highly decorated military officers since General Dwight D. Eisenhower. His leadership experiences have taken him from Vietnam to Latin America and ultimately to the position of NATO's Supreme Allied Commander, where he led a unified force to victory in NATO's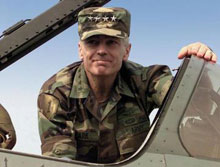 first major combat action. Clark commanded all NATO forces to success in the important Kosovo conflict, saving 1.5 million Albanians from ethnic cleansing without a single Allied casualty.
He is the author of the Washington Post bestseller, Waging Modern War, which recounts his experience leading NATO's forces to a hard-fought and successful victory in Kosovo. Since September 11, 2001, it has become clear that the lessons of Kosovo are directly applicable to the war against terrorism and the nations that sponsor it. As the Los Angeles Times noted, now more than ever this book's "lessons are highly relevant ... Gen. Clark has performed another service by highlighting [the] problems at a crucial moment in American history."
Before becoming Supreme Allied Commander Europe (SACEUR), Clark served as commander in chief of the United States Southern Command, Panama, where he commanded all US forces and was responsible for the
direction of military action and interest in Latin America and the Caribbean. His previous assignment was as the director for strategic plans and policy for the Joint Chiefs of Staff, where he oversaw worldwide politico-military affairs and U.S. strategic planning.
Now in the private sector, Clark is chairman and CEO of Wesley K. Clark & Associates, a strategic advisory and consulting firm, and serves on the Board of Directors of Messer-Griesheim, Acxiom Corporation and SIRVA Corporation. In addition, his non-profit activities include trustee of International Crisis Group, board member of the National Endowment for Democracy and district senior advisor to the Center for Strategic International Studies in Washington DC.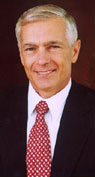 Among his many military decorations, Clark is a four-star general who has been awarded five Defense Distinguished Service Medals, two Army Distinguished Service Medals, the Silver Star, four Legion of Merit Awards, two Bronze Star Medals and the Purple Heart. He has received honorary Knighthoods from the British and Dutch governments and was made a Commander of the French Legion of Honor. In August 2000, he received the Presidential Medal of Freedom, the US' highest civilian honor, for his outstanding leadership and service in the Kosovo conflict.
Clark is a graduate of the United States Military Academy at West Point, where he graduated first in his class. He holds a master's degree in philosophy, politics and economics from Oxford University where he studied as a Rhodes Scholar.
Esquire notes, "In its 227-year history, the United States of America has elected twelve generals as president. The last, of course, was Ike, and since then, the generals who have involved themselves in presidential politics have all either scared people or, once they stopped scaring people,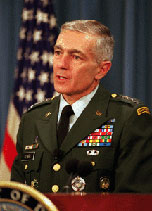 come across as faintly ridiculous, like cats without claws. Wesley Clark is neither scary nor ridiculous, so he's starting with a leg up. He's also smart, handsome, well-spoken, personable, driven, organized, disciplined, passionate, courageous, fair-minded, loyal, and fairly well-known." Read the entire article by clicking here.
The Ubben Lecture Series has brought distinguished individuals to the DePauw University campus since 1986, including former British Prime Ministers Margaret Thatcher and John Major, former Israeli Prime Minister Shimon Peres, General Colin Powell, Ross Perot and, in the 2002-03 school year, Spike Lee, Mike Krzyzewski, Harry Belafonte and ice cream entrepreneurs Ben & Jerry. To view a complete list of Ubben Lecturers, which includes links to video clips and news stories, click here.
Back