Comic Kick Irrational by Brian Lord '98 Now in Three Publications
August 22, 2003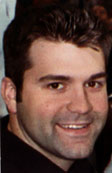 August 22, 2003, Greencastle, Ind. - Kick Irrational, a comic strip that is written and drawn and was created by Brian Lord, a 1998 graduate of DePauw University, is widening its reach. Already read weekly by people in 192 cities, 46 states and 9 countries via the Internet, Kick now appears monthly in Nashville Christian Family magazine, Funrunner, and the Mitensan, which have a combined circulation of 70,000 readers.
"I'd like Kick to develop into one of the most widely read strips in the world through newspaper, print, and Internet syndication," says Lord, who lives in Franklin, Tennessee, near Nashville. "But even more than being widely read, I want Kick to have an impact on people. I really learned a lot from and enjoyed Peanuts and Calvin & Hobbes growing up. I want to have a strip that touches people like those did, that for whatever reason they can connect with it personally. I want them to be able to read the strip, smile for a second, maybe think a little, and go on with their day a little better for having read it."

Lord says Kick Irrational "was born Labor Day weekend of my senior year at DePauw. I was bored and just decided I'd create my own comic strip. The name Kick Irrational just appeared in my head, and that's what it was from the beginning, and I've never thought of changing it. I drew about 20, submitted them to The DePauw, and got turned down. In defense of the newspaper, the drawing was pretty weak, so I don't blame them. The strip sat on the shelf for 5 years, but I still kept writing out ideas, just not drawing them. I was trying to find a book to read at Borders for a flight back from Miami in November 2002, and came across a title called The Parables of Peanuts by Robert L. Short. It's the story of how history's most successful cartoonist, Charles Schulz, conveyed messages and made a difference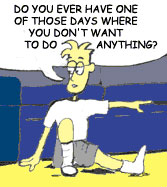 by using his cartoons. He wanted to be funny, but more than that, he wanted to make a difference. And my comic strip just crystallized in my head after reading that book. Within two weeks I'd come up with a marketing plan, the basic outline for the initial characters, and my goals for the strip. And the drawing just came together. If you look at my drawings a week before I read that book, and a week after, you wouldn't believe the same person drew them."
Creating a distribution mechanism for an upstart comic was Brian Lord's next challenge. "For the first week, I made a list of 'The First 50' -- fifty people in my life who had been an encouragement -- friends and family, and some DePauw professors. I let them know what I was up to and that I was looking for their support, and then e-mailed the first strip out to them. It began with people in 25 cities and 10 states. And week after week, they passed it on to others who signed up, who in turn passed it on others I didn't know, so that within 8 months, it's now grown to a level I couldn't have imagined when I started. Kick Irrational is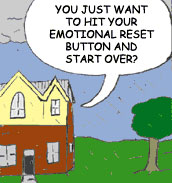 now going to run monthly in the Mitensan (a Mensa publication), Funrunner (a monthly runners' magazine), and Nashville Christian Family Magazine, and we're just getting started."
Lord credits lessons from Sandy Campbell, a 31-year cartooning veteran and former president of the Association of American Editorial Cartoonists, for improving his drawings. "I learned some key components from him, such as the use of black and 'camera angles',, so to speak. I've also tried to give each character a foundation for their personality, goals, styles, etc. Why does Kick do certain things, and why does Tolk not?" Lord notes that "Kick's hair is a tribute to my favorite strip, Calvin & Hobbes, and Lewis and Tolk are named after my favorite authors, C.S. Lewis and J.R.R. Tolkien. Lewis is sort of the good angel, Tolk is sort of the bad angel, and both pull Kick in different directions. All three are part of me -- Kick is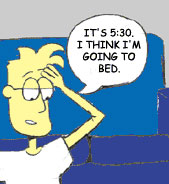 the husband who's sort of directionless sometimes but is generally a good guy. Lewis is the Christian nerd who likes sweet tea and pays the price for his eating habits. Tolk is kind of a jerk, a jock, and is pretty cocky, but sort of looks after Kick in a big brother sort of way. I was very hesitant to draw female characters, but I finally drew about 5 different characters, showed them to my wife and a couple of friends, and they picked one out. My wife insisted on giving her the name 'Kricket,', which is also one of my wife's nicknames. And my wife has ended up providing endless amounts of material, although she's not quite as severe as Kricket. It wouldn't be the same strip without her. Dr. Williams is the wise mentor and counselor for Kick, who my family claims is based on my grandfather. Josie is a character derived completely from subscriber suggestions."
The interest in comics began at age 4 for Brian Lord, when he contributed drawings to his 9-year-old sister's family newspaper. He dabbled in the form through his formative years, and developed Kick while a student at DePauw, where "I learned to be observant and learn both sides of the story. I was fairly outspoken about my views, and professors routinely put me in situations for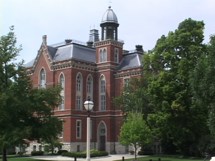 discussions and papers where I had to defend something I didn't believe in. DePauw is also very conducive to helping you become well rounded. I think I had internships in six different fields -- from a church to a TV station to a record label to a political action committee -- so now I can interact with almost anyone and have something to say or write. Those are extremely valuable skills."
If would like to get Kick Irrational every week, or contact Brian Lord, send an e-mail by clicking here.
Back