DePauw Among America's 328 Most Interesting Colleges
August 25, 2003

August 25, 2003, Greencastle, Ind. - DePauw University is among America's best colleges and universities and a "hidden treasure", according to The Unofficial, Biased Insider's Guide to the 328 Most Interesting Colleges 2004. Published by Simon & Schuster and sponsored by the test-preparation company Kaplan, Inc., the book's findings are based on a pure random sample of high school guidance counselors across America. Schools are not ranked. Instead, each of the 328 colleges and universities selected has a detailed, two-page profile.
"The education DePauw offers is specifically designed to hone students' analytical skills, perfect their writing ability, and ensure that they can think and speak effectively," the book states.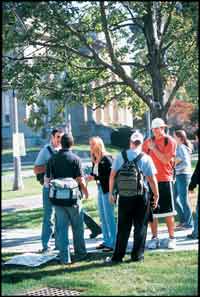 "'DePauw places high expectations on its students,' says a grateful senior. 'Academically, I got what I paid for.'"
The summary continues, "Another fine aspect of DePauw is the approachability and quality of its faculty. An Indiana high school guidance counselor approves of the way DePauw 'works individually with students,' giving each one personal attention. 'I've found the personal attention to be the largest incentive possible to do well,' agrees a senior. 'The professors are open to suggestions, if you think something is simply not working well in class. I've even been invited by one of my professors to help reorganize a class I just finished, and to help her develop a second-level class to follow it up. It's a really good feeling to have so much say in your education, and not just be led by the hand.'"
The essay notes the opportunities for internships and study abroad that DePauw students enjoy,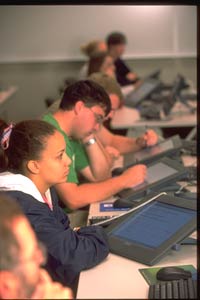 as well as recent improvements to the campus, including the expansion and renovation of the Julian Science and Mathematics Center and construction of the new Peeler Art Center and indoor track and tennis building. The University's technology initiatives also earn praise. "According to the latest review by Yahoo! Internet Life, DePauw ranks among the top 10 percent of wired colleges in the United States. It's reasonable to assume it will ascend further, since Lilly Endowment awarded the school a $20 million grant to launch its 361° program. Using a new technology center in the math and science building as its base, the program will prepare DePauw students for the use of information technology in all aspects of their careers and lives."
328 Most Interesting Colleges 2004 also writes of the more than 70% of DePauw students who volunteer for community service projects.
"'This is one of our best selling points,' exclaims one sophomore. 'A lot of programs are student-run, providing more leadership experience for interested students.'"
DePauw was also listed in the 2003, inaugural edition of Most Interesting Colleges. Read more by clicking here. The University is also in the top tier of national liberal arts colleges as ranked by U.S. News & World Report (read more here), and is ranked in the Princeton Review's annual book highlighting America's top schools, The Best 351 Colleges: 2004 Edition (read more here).
Back