Success of DePauw's Posse Partnership Noted by Lumina Foundation
August 29, 2003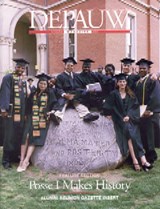 August 29, 2003, Greencastle, Ind. - "'Our faculty really like having Posse students in their classes,' says Robert Bottoms, president of DePauw and a member of the Posse board of directors," notes an article at the Lumina Foundation's Web site. Dr. Bottoms adds, "These students are leaders, trained to take an active role and make an impact on campus. In fact, the [2002-03] president of our student body [Edmond Krasniqi '03] is a Posse student who probably wouldn't have found his way to DePauw if it weren't for the program."
The story notes how DePauw is one of 16 top-tier colleges and universities that partner with the Posse Foundation, a New York City-based student leadership and admissions initiative that recruits multi-racial and multicultural students from public high schools in some of America's largest cities. The foundation provides a pre-college orientation and support system that enables these young people to attend and successfully graduate from some of the nation's finest liberal arts institutions. "At DePauw University in Indiana, the experience proved so positive that two posses now arrive annually -- 10 students from New York City and another 10 from Chicago." DePauw has been a Posse partner since 1996.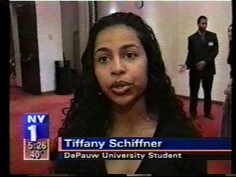 A private, independent foundation, Lumina strives to help people achieve their potential by expanding access and success beyond high school. You can read the article online by clicking here.
DePauw's Posse participation was also noted in Black Issues in Higher Education; read more here. New York 1, the 24-hour cable news channel that serves America's largest city, also reported on Posse and DePauw. Access the December 2001 story, along with video clips, by clicking here.
Back