New Media Ownership Rules, Effective Thursday, Will Stifle Competition & Choice, Prof. Kevin Howley Writes
August 31, 2003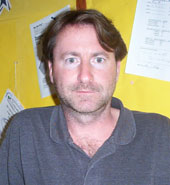 August 31, 2003, Greencastle, Ind. - "On Thursday, the Federal Communications Commission's new media ownership rules go into effect," writes Kevin Howley, assistant professor of communication arts and sciences, in a letter to the editor published in today's Indianapolis Star. "According to industry representatives and some federal regulators, this means greater consumer choice and a more competitive media environment. Don't count on it. If recent history is any guide, media deregulation, such as the Telecommunications Act of 1996, has done more harm than good to radio," Dr. Howley states.
"What was once a vibrant and creative medium that served the needs of local communities now answers only to the logic of the marketplace," the professor notes. "As if the state of local news and public affairs isn't woeful enough, the FCC's new ownership rules, drafted with scarcely any public comment and scheduled to take effect despite

widespread opposition, would do the same for local television and newspapers."
Howley calls on readers to learn more about media consolidation and its ramifications and to contact their elected representatives with their concerns. You can access the letter at the newspaper's Web site by clicking here.
Back