Report: Gen. Wesley Clark Will Announce Presidential Intentions Within Days of DePauw Speech
September 1, 2003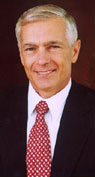 September 1, 2003, Greencastle, Ind. - The field of Democratic presidential candidates "may soon be joined by a 10th contender, former Army Gen. Wesley Clark," writes Ken Fireman in today's Newsday of New York. "The former NATO commander has hinted broadly at his interest and now says he will announce his intentions by September 19, when he has scheduled a speech in -- you guessed it, Iowa." Four days later, Gen. Clark will be on the DePauw University campus to deliver a Timothy and Sharon Ubben Lecture.
Today's Washington Post notes, "The race could turn even wilder if retired Army Gen. Wesley Clark jumps in this month" (read more here). Clark -- the first commander to lead NATO in war, a successful campaign against the Serbs in Kosovo in 1999 -- says in the new issue of Newsweek that it's not too late to launch a presidential bid. "I've got recon out there. I've got some heavy artillery that can come in. I've got good logistics, and I've got strategic mobility."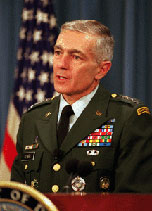 Newsweek's chief political correspondent Howard Fineman writes that as of late last week, Clark's closest friends were saying his candidacy looked like a "go," and adds, "Clark has built himself into a national figure, generating an ostensibly independent movement to 'draft' him -- in the manner of his hero, Dwight D. Eisenhower -- to run."
You can read the Newsweek article, titled "The General on the Edge: Democrats wary of Dean are still searching for a savior. Is Wes Clark their man?," by clicking here. Access the Newsday story here.
General Clark's September 23 DePauw speech begins at 7:30 p.m. in Kresge Auditorium of DePauw's Performing Arts Center, 600 S. Locust Street, and is free and open to the public. Read more by clicking here.
Back