DePauw Wins 'Nick Mourouzis Day' Thriller 28-26 Over Rhodes
September 6, 2003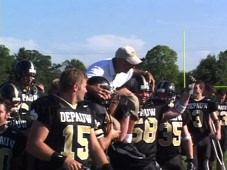 September 6, 2003, Greencastle, Ind. - "Today's game provides a great lesson for life," DePauw University's all-time winningest football coach, Nick Mourouzis, told his team after they defeated Rhodes College 28-26 in the closing moments of this afternoon's season-opener. "Never give up. See what happens when you keep fighting?" With DePauw down 26-25 and 21 seconds left in the game, senior Ben Murray kicked a 20 yard field goal
[DOWNLOAD VIDEO: "The Winning Boot" 338KB] that gave DePauw a 28-26 victory. The Tiger players celebrated by carrying their coach off the field.
Today's game, Community Day, was dedicated to Mourouzis, who announced August 19 that he will retire effective at the conclusion of the 2003 football season (read more here). Today's victory gives "Coach Nick," in his record 23rd season at DePauw, his 134th win, the most in school history. At halftime, the coach was honored by football coaches from Putnam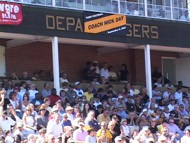 County's four high schools and Greencastle Mayor Nancy Michael proclaimed it "Nick Mourouzis Day" citywide. Fans from DePauw and the local community packed Blackstock Stadium on a picture-perfect September day.
DePauw trailed at halftime, but led for most of the second half. But the pesky visitors from Memphis, Tennessee took the lead with 1:39 to play. After receiving the kickoff, DePauw quarterback Andy Yoder found Adam Sisson with a 48-yard pass
[DOWNLOAD VIDEO: "Setting Up the Winning Score" 204KB] that was tipped and brought down by the DePauw sophomore, setting up the winning field goal moments later.
DePauw was down 7-0 in the first quarter when senior Jackson Rust scampered 10 yards
[DOWNLOAD VIDEO: "DePauw's First Score" 444KB] for a touchdown that tied the game. Another offensive highlight for the Tigers was a 67-yard run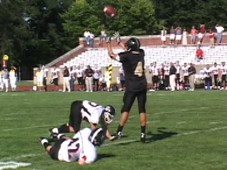 for paydirt in the second quarter by sophomore quarterback Ross Wiethoff
[DOWNLOAD VIDEO: "Wiethoff's Long Run" 681KB].
[DOWNLOAD VIDEO: "Players Carry "Coach Nick" Off the Field" 289KB] Access a complete game summary at the football team's Web page by clicking here.
DePauw's next three games are on the road. Next Saturday, the Tigers are in Michigan to battle Hope College.
Back