Gift of Land from Hanson Aggregates Will Create New, 480-Acre DePauw University Nature Park
September 10, 2003
For Larger Maps & Photos, Click Here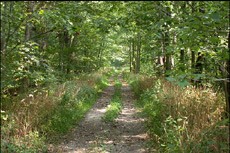 September 10, 2003, Greencastle, Ind. - A generous gift of land from Hanson Aggregates will allow DePauw University to create an approximately 480-acre nature park west of campus. The DePauw University Nature Park will feature as many as four trails for walking, jogging, hiking and biking; arboretums; a canoe launch; and outdoor classrooms. Potentially at a later time, amenities could be added, including a lodge for retreats and overnight guests, as well as an outdoor amphitheater. Work will begin immediately on the trails. The Nature Park will be closed to students and the public until it opens sometime in the spring.
"This is an opportunity with unlimited potential," said DePauw University President Robert G. Bottoms.
"The property is beautiful and will be linked to campus, providing a place for students and members of the local community to learn, study, exercise and commune with nature. This only adds to the uniqueness of what DePauw offers."
[DOWNLOAD AUDIO: "More from Dr. Bottoms" 62KB]
Hanson Aggregates mined a limestone quarry on the site, which is located one-third of a mile from the western edge of the DePauw campus, for nearly a half century (map above shows the new Nature Park in yellow, the existing DePauw campus is in red). The company has agreed to donate 280 acres of the land, and lease the remaining 178 acres to the University for $1 annually for ninety-nine years.
DePauw acquired 23 acres of adjacent property to increase the total to 481 acres. John Lawson, president of Hanson's midwest division, and Dr. Bottoms "cut the ribbon" on the Nature Park at a news conference this afternoon (see it here:
[DOWNLOAD VIDEO: "Ribbon is Cut" 843KB].
In commenting on the gift of land, Ward Nye, executive vice president of Hanson Aggregates, stated, "Hanson is delighted to be in a position to make this gift to our neighbor, friend and customer, DePauw University. DePauw and Hanson have for many years been important parts of the Greencastle community and beyond. While DePauw has sent its
fine graduates throughout the United States and the world, Hanson too is a worldwide business, with a uniquely local presence. Our products are part of people's everyday life. The aggregates we produce are used to build homes, roads, schools and places of work; all necessary and essential functions of our existence. We view this gift as another step in fulfilling our promise of corporate responsibility to make the communities in which we operate better places to live, a commitment I know we share with DePauw."
Before opening the Nature Park, DePauw will finish the trails, fence the property, erect signage and address very minor clean-up issues on the site,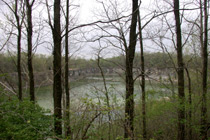 including the removal of an underground storage tank and materials that remain from the mining operation. Chuck Cagann, president of Mansur Real Estate Services, which is developing the Nature Park for the University, says, "The proximity of this unique ground to the DePauw campus provides an unparalleled opportunity. Few universities in the nation have a parcel of this size and character adjacent to the campus and the vision to capitalize on these special features."
[DOWNLOAD AUDIO: "More from Chuck Cagann" 171KB]
The project could include:
Four trails – two that are two miles each; others that are 1.3 and 1.1 miles. Each would offer different views of the terrain. Some will be more challenging than others.
Arboretums – separate woodland and wetland arboretums would provide areas for the study and appreciation of nature
A canoe launch
An outdoor classroom – where classes and performances could be held
At a later time other elements of the project could include a lodge for visitors to campus and Greencastle and for those seeking a weekend getaway that puts them in touch with nature,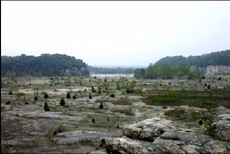 as well as an outdoor amphitheatre where performances could be held.
[DOWNLOAD AUDIO: "Dr. Bottoms on Community's Role in Planning Park" 367KB]
Funds that will be used for the clean-up and development of plans for the site have come from private donors and are not from the University's endowment or operating budget.
"Hanson's gift creates a unique and historic opportunity for DePauw," says Judson C. Green '74, chair of DePauw's Board of Trustees. "This is an extraordinary piece of property that will create many exciting, educational and recreational opportunities. It is heavily wooded bordering Big Walnut Creek and features some spectacular views around the abandoned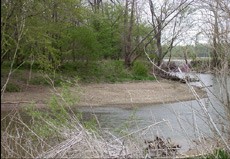 quarry, which is partially filled with water. It is easy to imagine the property being utilized for everything from environmental study to academic seminars, and it represents yet one more way in which DePauw is distinctive."
Wade Hazel, professor of biology at DePauw, told students, faculty, administrators and community leaders who attended the ribbon-cutting,
[DOWNLOAD AUDIO: "Prof. Wade Hazel" 158KB]"I've been here for about 22 years and I think it's fair to say that this is the longest-running building project with which
DePauw has ever been associated, beginning about 350 million years ago when the rock on the cliffs down there by the quarry were part of the bottom of a vast inland sea. So now we're here to cut the ribbon on evolution's handiwork, which is pretty exciting for a biologist." Dr. Hazel says the new "field science laboratories" in the Nature Park will complement DePauw's top-rate lab facilities.
[DOWNLOAD AUDIO: "Opportunities" 98KB]"In addition to offering us an opportunity to preserve a large tract of land in its natural state, the property will make it possible for faculty to offer field courses within easy access of campus and will give our students and faculty a place to conduct long term and short term research projects."
Kevin Parsons, president of Kevin K. Parsons & Associates, Inc., which is the landscape architectural firm planning the DePauw University Nature Park, states, "This abandoned quarry site will offer the most dramatic views and trail opportunities found anywhere within the state of Indiana. We are currently planning a nine (9) mile long nature trail system composed of several trail loops that will all be interconnected. Proposed trail alignment locations include an accessible trail along an abandoned rail road bed,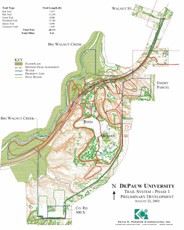 a rustic loop along the Big Walnut Creek, and a scenic vista loop along the high-wall rim of the quarry."
[DOWNLOAD AUDIO: "More from Kevin Parsons" 143KB]
Dr. Bottoms added, "This will enhance the quality of our community, and provide another attraction to students considering DePauw and for graduates who return to campus. We thank Hanson Aggregates and are excited about the opportunities this announcement will create for education and for the people who call DePauw University and Putnam County home."
Today's Indianapolis Star includes a lengthy story on the DePauw Nature Park. Access it by clicking here. An Associated Press article is available at WIBC radio's Web site here. And Inside Indiana Business has a story and accompanying audio interview with Dr. Bottoms accessible here.
Back