Prof. Yvonne Williams to be Inducted in Ohio Women's Hall of Fame
September 11, 2003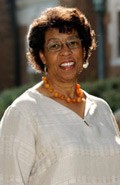 September 11, 2003, Greencastle, Ind. - Yvonne C. Williams, Hampton and Esther Boswell Distinguished University Professor of Black Studies at DePauw University, will be inducted into the Ohio Women's Hall of Fame, Governor Bob Taft has announced. Dr. Williams, who served the College of Wooster in Wooster, Ohio as a professor and administrator for twenty-three years, will be among 11 women honored when Governor Taft and First Lady Hope Taft host the 25th annual induction ceremony at the Ohio Statehouse October 7.
"These inductees exemplify the accomplishments of Ohio's women in diverse fields such as arts, business, science, activism and government," said Taft. "In honoring these women, we celebrate Ohio's strong and vibrant heritage and provide guidance and inspiration for future generations of Ohioans."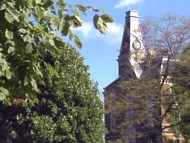 "Yvonne Williams has been a leader and role model for faculty members and administrators throughout the nation," notes Neal Abraham, vice president for academic affairs and dean of the faculty at DePauw. "She founded one of the first black studies programs at a liberal arts college, guiding the development of a major and a department, mentoring faculty members and programs throughout the region, and providing wise academic leadership to the College of Wooster as Dean of the Faculty."
Dr. Abraham continues, "We, at DePauw, were fortunate to recruit her to the Hampton and Esther Boswell Distinguished University Professor at the time of her retirement from The College of Wooster. She has provided wise counsel to many colleagues at DePauw, mentoring new faculty members, and contributing to the development of a new course, Introduction to Black Studies, and the approval by the faculty of a major in Black Studies.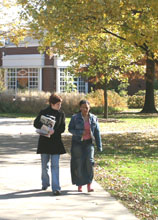 She has also organized the informative and provocative Boswell Symposia which have addressed such important issues of race and racial justice, the definition of Black Studies and its contributions to the Academy, and the relationship of racism and the media. These symposia have attracted speakers of national and international reknown and have drawn broad student and faculty participation."
Women selected in 2003 will join other outstanding members, including America's first female physician Elizabeth Blackwell, best-selling author and syndicated columnist Erma Bombeck, Vietnam Veterans Memorial Designer Maya Lin, Ms. founder Gloria Steinem, Nobel prize winner Toni Morrison and Doris Day, renowned star of stage and film.
The 2003 inductees are:
Sheila G. Bailey, Cuyahoga County: International leader in Space Solar Cell Technology
Jeraldyne Kilborn Blunden (1940-1999), Montgomery County: Premier dancer, choreographer and founder of The Dayton Contemporary Dance Company
Shannon K. Carter, Hamilton County: Founder Crayons to Computers recycling used products into practical tools for the classroom
Luceille Fleming, Franklin County: National leader in developing drug and alcohol treatment and prevention services
Olga D. Gonzalez-Sanabria, Cuyahoga County: Power systems researcher whose Long Cycle-Life Nickel-Hydrogen Batteries are used on the International Space Station
Elsie Janis (1889-1956), Franklin County: Dancer, songwriter, author and vaudevillian who entertained World War I troops becoming the "Sweetheart of the American Expeditionary Force"
Lois Lenski (1893-1974), Shelby County: Author and illustrator of more than 80 children's literature titles
Ellen Mosley-Thompson, Franklin County: Climatologist who uses ice core samples to measure changes in the earth's climate
Cathy D. Nelson, Franklin County: Founder, The Friends of Freedom Society and State Coordinator, The Ohio Underground Railroad Association
Evlyn Gray Scott (1903-2000), Cuyahoga County: Pioneer in the field of hospital pharmacy, organizing professional groups, lobbying and mentoring young professionals
Yvonne C. Williams, Wayne County: Hampton and Esther Boswell Distinguished University Professor of Black Studies at DePauw University
The October 7 induction ceremony at the Ohio Statehouse will be held at 6:00 p.m. and will be followed by a reception. The Ohio Department of Job and Family Services administers the Hall of Fame. Tickets for the event, which is open to the public, are $35. For tickets or for more information, call (614) 466-4496.
Back