Prof. Stan Irwin Releases CD of Cole Porter Favorites, Night & Day
September 13, 2003

[DOWNLOAD AUDIO: "Night and Day" 201KB];

[DOWNLOAD AUDIO: "True Love" 227KB]
September 13, 2003, Greencastle, Ind. -

[DOWNLOAD AUDIO: "Reaching Back" 114KB] "Some of the songs are those that I, as a youngster, grew up on and were among some of the first songs I sang," says Stan Irwin, professor of voice in the DePauw University School of Music, of the ten Cole Porter compositions that comprise his new compact disc, Night & Day.

[DOWNLOAD AUDIO: "Some of the Best" 33KB] "These pieces are well constructed. They're some of the best of his 800-some songs."
The disc, which features Irwin's vocals and accompaniment by members of the Indianapolis Symphony Orchestra, some of whom are DePauw faculty members, is now available.
Irwin says Porter's songs

[DOWNLOAD AUDIO: "Irwin on Porter" 181KB] "are very close to art songs, in terms of the style." Night &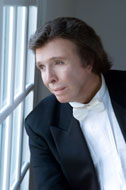 Day is Irwin's second recording. Irwin Sings Gershwin, released in 1999, featured accompaniment from a small combo. This time out,

[DOWNLOAD AUDIO: "Working with the Symphony" 194KB] "it's a larger group and they are extraordinary musicians," the bass-baritone says. The orchestra includes DePauw School of Music faculty members James Beckel, Anne Reynolds, Dan Rizner, Randy Salman and Sandy Williams.

[DOWNLOAD AUDIO: "Ev'ry Time We Say Goodbye" 223KB] The orchestra is arranged and conducted by Bob Krogstad, who is

[DOWNLOAD AUDIO: "On Bob Krogstad" 106KB] "well known within the industry. He wrote some of the music for the 1996 Olympics and has conducted at Carnegie Hall with people like Mel Torme," notes Irwin. The swing era and the big band are captured in the arrangements, as well as added touches of influence from Brazil and the South Sea islands.

[DOWNLOAD AUDIO: "I've Got You Under My Skin" 203KB] Stan Irwin has appeared as a soloist at major venues in New York, London, Vienna, Prague and Zurich and in media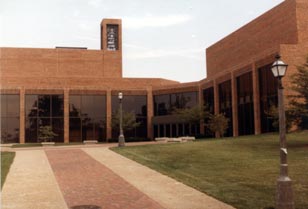 broadcasts on PBS and NPR. As a winner of the World Wide Voice Competition in New York, he performed Beethoven's Ninth Symphony at Avery Fisher Hall and Brahms' Requiem with the Philharmonia Orchestra of London at Barbican Hall. He has appeared at the Zurich Opera as well as Dvorak Hall in Prague and the Konzerthaus in Vienna.
Night & Day is available at Fine Point Bookstore on the square in Greencastle and via Amazon.com by clicking here and CD Baby.com (here).
Back