High Tech CEO David Becker '75 Praises the Late Gov. Frank O'Bannon
September 14, 2003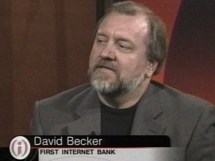 September 14, 2003, Greencastle, Ind. - Indiana's 47th Governor, Frank O'Bannon, who died Saturday morning, "planted a great foundation to move Indiana forward in the technology realm," says David Becker, chairman of the technology trade group TechPoint and a 1975 graduate of DePauw University in today's Indianapolis Star. "Twenty years from now, we'll look at him as the one who got it all started."
O'Bannon died at Chicago's Northwestern Memorial Hospital, five days after suffering a massive stroke. Becker, founder of First Internet Bank of Indiana and a member of the Board of Directors of DePauw's McDermond Center for Management and Entrepreneurship, says the governor's advocacy of technology had a positive impact on the economic and educational opportunities Indiana offers. "He understood computers. He used computers. He really understood what technology could do for the state and staunchly supported us."

The Star's Norm Heikens adds, "By advancing his Energize Indiana initiative in this year's General Assembly, O'Bannon set the state on the long-term course necessary to rebuild the economy, Becker said. The commitment of $75 million for the 21st Century Research & Technology Fund, which encourages businesses and universities to develop technology together, is a step in the right direction, he said. So is the mandate for state pension funds to invest in Indiana technology companies, Becker said."
Access the complete story at the newspaper's Web site by clicking here. Read more about David Becker here.
Back