Walden Inn Noted in Louisville Courier-Journal Piece on Covered Bridge Festival
September 14, 2003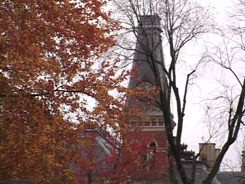 September 14, 2003, Greencastle, Ind. - "The Walden Inn in Greencastle, on the campus of DePauw University, has excellent accommodations and dining," notes a story on the upcoming Covered Bridge Festival, published in today's edition of the Courier-Journal of Louisville, Kentucky. "Sixty miles from Indianapolis, it seems time has stood still along winding country roads where, in a three-county area, 42 wooden covered bridges, dating from 1856 to 1922, still take travelers across streams and rivers as they have for more than a century," Jane Ammeson writes.
Later, the article notes, "in Putnam County, there are nine covered bridges. 'And one we adopted,' says Karla Lawless, executive director o
f the Putnam County Convention and Visitor's Bureau, which is located in Greencastle. Lawless is talking about Cataract Bridge, which is just over the border in Owen County. Cataract Bridge, built in the late 1800s, stretches over Cataract Falls, the largest waterfall in Indiana. The upper falls has a sheer plunge of 20 feet; the lower falls, about half a mile downstream, falls about 18 feet. Nearby, the Cataract General Store has been in continuous use as a store since 1860."
You can access the story, which includes several color photos of the historic bridges, by clicking here.
This year's Covered Bridge Festival is October 10-19. For more information, click here or call (800) 829-4639.
Source: Louisville Courier-Journal
Back