Publishers Weekly Praises New Book by Prof. Valarie Ziegler
September 15, 2003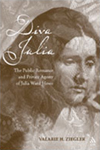 September 15, 2003, Greencastle, Ind. - The September 1 edition of Publishers Weekly praises Diva Julia: The Public Romance and Private Agony of Julia Ward Howe, written by Valarie H. Ziegler, professor of religious studies at DePauw University, and due in bookstores next month.
"Howe's own children wrote extensively on her remarkable life of ideas and action, but no one has been so thorough or bold as Ziegler," the publication's review states of Diva Julia, for which Dr. Ziegler was awarded the 2002 Trinity Prize (read more here). "She presents an honest look at Howe's personal struggles to do great public works, and her biography is the better for it."
Diva Julia is the first full-length biography of Howe, the noted suffragist, author of The Battle Hymn of the Republic and inventor of Mother's Day. Publishers Weeklyalso praises the "fluid narrative" of this "revealing treatment of Julia Ward Howe's life ... Refreshingly, Ziegler handles close readings skillfully but is simultaneously able to meaningfully discuss the larger implications of Howe's message during difficult times."

Professor Ziegler, a winner of the DePauw University Exemplary Teaching Award in fall 1997, joined the DePauw faculty in 1995, after teaching for a decade at Rhodes College. She is also the author of The Advocates of Peace in Antebellum America and co-editor of Eve and Adam: Jewish, Christian, and Muslim Readings in Genesis and Gender. Ziegler received her Ph.D. in historical theology from Emory University and her Master of Divinity degree, cum laude, from Yale University, and she is a Phi Beta Kappa graduate, with a Bachelor of Arts in history and religion, from Centre College.
Access the Publishers Weekly review online by clicking here. Pre-order Diva Julia at Amazon.com and Barnes & Noble.com.
Back