DePauw Symphony Orchestra Debuts Season with 'Fire, Wind, and Water' Sunday
September 16, 2003
September 16, 2003, Greencastle, Ind. - The DePauw Symphony Orchestra will perform its first concert of the 2003-04 season Sunday, September 21 at 3 p.m in Kresge Auditorium of the Performing Arts Center. Entitled "Fire, Wind, and Water," the free concert will feature Jacob Druckman's Summer Lightning, a solo flute concerto performed by senior Leighann Daihl, and Ottorino Respighi's The Fountains of Rome.
Flute soloist Leighann Daihl hails from Naperville, Illinois and studies with Ann Reynolds at DePauw.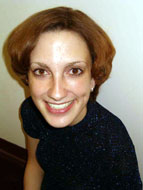 She spent part of her junior year in Vienna through the DePauw School of Music's Vienna Studies Program. A winner of the 2003 DePauw Concerto Competition, Daihl will be performing the Fantasiefor flute and Orchestra by French composer Georges Hüe. "We are fortunate to have dedicated music students like Leighann," says Orcenith Smith, director of the DePauw Orchestra. "She worked for over a year preparing this piece and her accomplishment is impressive."
Jacob Druckman's Summer Lightning was written in 1991 on a commission from the Boston Symphony Orchestra in celebration of the fiftieth anniversary of the Tanglewood Music Center. Founded in the Berkshire Mountains in Massachusetts, Tanglewood is the summer home of the Boston Symphony and a center for advanced musical studies for young musicians. Professor Smith recently attended performances at Tanglewood during the

Festival of Contemporary Music. "One of the several dozen works that I heard at the Festival was Druckman's. When I imagined the work before hearing it, I thought it would be about dramatic bolts of lightning, but there are many shadings to that intensity that Druckman creates."
Another work featured in the concert is Italian composer Ottorino Respighi's Fountains of Rome, a piece from 1917 which celebrates the composer's appreciation for Rome's vast history. Depicting four important fountains of the city during various times of day, Fountains of Rome was a great success,

launching Respighi as a recognized orchestral composer. According to Smith, "The DePauw Chamber Symphony toured to Italy in January and some of the current Orchestra students experienced the majesty of the city of Rome and, in particular, the Trevi Fountain. The romantic musical descriptions of all the fountains are full of imagery –- mysterious, triumphant, boisterous, playful and elegant. The students in the Orchestra are really taken by the work and we know that our audience will enjoy the Fountains and the other works in our first concert."
For more information about this or other School of Music events, call (765) 658-4379 or click here.
Back