DePauw Will Prepare You for a Changing World, President Bottoms Tells Record Crowd at Indianapolis Reception
September 15, 2003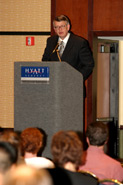 September 15, 2003, Greencastle, Ind. -
[DOWNLOAD AUDIO: "Pride" 59KB] "We're pretty proud of ourselves, and we are pretty proud that you are here to continue thinking about coming to DePauw," University President Robert G. Bottoms told students who -- along with their parents and DePauw alumni, faculty and staff -- filled a ballroom in the Hyatt Regency in downtown Indianapolis tonight. The 2003 Presidential Reception drew 161 high school students and offered the students and their parents an opportunity to learn more about DePauw and meet professors and administrators in person.
[DOWNLOAD AUDIO: "Unusual Times" 193KB] "I spent a lot of time this summer reading the newspaper and thinking about the world 17-year-old people live in and what
you will have to confront that your parents never had to confront and I certainly did not have to confront," Dr. Bottoms told the prospective students. "After the attack of 9/11, we have come as Americans to realize that we are vulnerable on our own soil. This is a new experience for us."
With the conflict continuing in Iraq and strife in Afghanistan, North Korea and other parts of the world, the recent accounting scandals in corporate America, and troubling breaches of journalism practices at the New York Times,
[DOWNLOAD AUDIO: "Navigating These Times" 334KB] "So how will you navigate your way through this kind of world?," the President asked. "All I'm trying to say is
there's a lot going on in your world -- there'll be a lot going on for the next four years -- and a lot expected of you when you graduate. So, when you think about a college, let me just put one new question on your checklist ... that is, not so much how the college looks, but what's the college doing that might help me be prepared to live in the world that we've just described."
At DePauw, where all classes are taught by faculty members and not teaching assistants, with a faculty-student ratio of one-to-ten, there are countless opportunities for interaction, examination and intellectual engagement, Dr. Bottoms stressed. He noted that students also benefit from the example shown by loyal DePauw alumni who return to campus on a regular basis: people like Lee Hamilton '52, a former U.S. Congressman who now serves as director of the Woodrow Wilson International Center for Scholars in Washington, D.C., and vice-chairman of the National Commission on Terrorist Attacks Upon the United States; James B. Stewart '73, Pulitzer Prize-winning author and investigative journalist; Steve Sanger '68, CEO of General Mills and Tim Solso '69, CEO of Cummins Inc., whose companies are ranked 1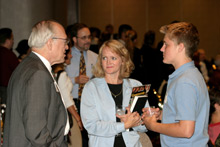 and 2 in the listing of America's "100 Best Corporate Citizens" by Business Ethics magazine; and Karen Koning AbuZayd '63, assistant secretary-general of the United Nations and deputy commissioner-general of the UN Relief and Works Agency.
[DOWNLOAD AUDIO: "The DePauw Family" 197KB] "They're members of the DePauw family. If they were speaking to you, probably the topic they'd choose is how DePauw University helped me form the character I've tried to instill in my company or in my life. What I'm trying to say to you is DePauw is a place where you can practice responsible citizenship, volunteer service through the Hartman Center, student leadership through all kinds of issues."
Bottoms, who has led DePauw since 1986, added,
[DOWNLOAD AUDIO: "Uncommon Success" 202KB] "People who are leaders don't just suddenly lead; they have to spend time in preparation. We think at DePauw that's one of the things we're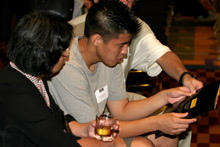 equipped to do -- help prepare people. Some of our current students would say intense preparation. [We're] helping to build and form character. Helping you to decide, if you join our community, what kind of citizen you want to be after graduation."
DePauw, named a top tier national liberal arts college and a "best value" by U.S. News & World Report (read more here), has experienced five consecutive record years for admission, vice president for admission and financial aid Madeleine Eagon told the crowd.
[DOWNLOAD AUDIO: "A Great Time" 269KB] "It is a great time to be at DePauw University," she said. The successful "Campaign for DePauw: Leadership for a New Century" and continuing financial contributions by loyal DePauw alumni have allowed the University to expand its full-time faculty from 160 to 220, improve its buildings and campus, and enjoy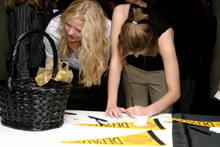 "increasing national recognition as a leading national liberal arts college ... The University, now more selective and with a stronger academic profile than at any time in its history, has become a top choice for more of America's best students."
Prospective students who would like more information on DePauw University, including access to an online application form, can click here. Another Presidential Reception will take place October 16 in St. Louis. To learn more, click here.
Back