Rebecca Gernhardt Cox '76 Named Sr. VP at Continental Airlines
September 17, 2003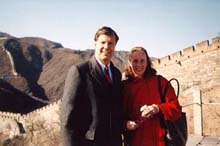 September 17, 2003, Greencastle, Ind. - Rebecca Gernhardt Cox, a 1976 graduate of DePauw University, has been promoted to senior vice president of Continental Airlines. Cox has been serving Continental as vice president of government affairs. The promotions of Cox and two other senior officers were announced today by Continental's board of directors. (photo shows Rebecca Cox with her husband, U.S. Congressman Christopher Cox (R- California), at China's Great Wall)
"We are fortunate to have these strong executives in our ranks," said Gordon Bethune, chairman and chief executive officer of Continental Airlines. "Each has contributed greatly to our success for many years, and they will ensure that we continue to grow and prosper."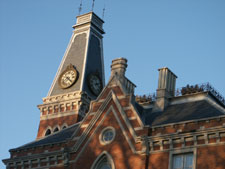 Rebecca Cox joined Continental in 1989 as staff vice president of government affairs and previously was the assistant to the president and director of the White House's Office of Public Liaison. Cox was also appointed to serve as chairperson of the Interagency Committee for Women's Business Enterprises, and has served as assistant secretary for Government Affairs at the U.S. Department of Transportation.
A news release posted at Yahoo.com's business section states that Cox "holds a bachelor of arts from DePauw University and a Juris Doctorate from the Columbus School of Law at Catholic University, Washington, D.C."
You can access the announcement by clicking here.
Back