Arkansas Newspaper Notes Upcoming DePauw Visit by Presidential Candidate Gen. Wesley Clark
September 19, 2003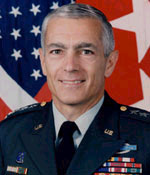 September 19, 2003, Greencastle, Ind. - Later today, Democratic presidential candidate General Wesley Clark "is in line to get considerable media coverage when he speaks on foreign affairs and national-security issues at the University of Iowa. He has scheduled some coffee-shop campaigning on the side," states an article in today's Arkansas Democrat-Gazette. It continues, "Clark will spend the weekend in Little Rock, his staff said. On Tuesday, Clark is to make a speech at DePauw University in Greencastle, Indiana. On Wednesday, he is to meet with a Chicago securities firm."
General Clark, former commander in chief of the United States European Command, former Supreme Allied Commander of NATO and 2004 presidential candidate, will come to the DePauw University campus Tuesday, September 23, 2003 to deliver a Timothy and Sharon Ubben Lecture, "Facing America's Challenges." The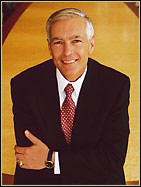 speech, which like all Ubben Lectures is free and open to the public (see list of past speakers here), begins at 7:30 p.m. in Neal Fieldhouse of the Lilly Center, 702 S. College Avenue. Read more about Clark's visit here, here, and here.
The story by Paul Barton notes, "The key event on next week's campaign schedule is Thursday's televised debate of the 10 Democratic candidates in New York. But Clark has a conflict. He is under contract to deliver a speech at Midwestern State University in Wichita Falls, Texas. Clark's staff said he is trying to get that engagement changed."
You can access the newspaper article by clicking here.
Back