Uncommon Success of Tim Collins '78 Profiled in Gulf News
September 21, 2003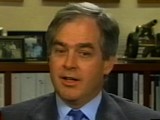 September 21, 2003, Greencastle, Ind. - "Timothy Collins insists that he is of Kentucky and Scottish Calvinist stock, not Irish, but he smiles impishly with a clear twinkle in his eyes that it seems as if there is a mischievous leprechaun lurking there somewhere," writes Gulf News, the leading English language newspaper of the United Arab Emirates, of the 1978 DePauw University graduate. "This would be appropriate for... someone from a land that believes in fairies and fairytale endings to impossible dreams, [who] would dare to go into Japan with no previous experience and try to put an ailing company on its feet again, and indeed a bank, for heaven's sake. But Collins did and so far has surprised the skeptics with his success. More difficult, and more important, he is winning influential Japanese friends."
Collins, who has previously appeared on the cover of Business Week magazine, is chairman of Ripplewood Holdings, "an investment fund that in 2000 took control of the bankrupt former Long-Term Credit Bank of Japan and renamed it Shinsei Bank, appropriately new birth. Last month, Ripplewood agreed to pay Vodafone $2.2 billion for the fixed-line business of Japan Telecom Holdings in Japan's biggest leveraged buyout.

In between, his fund bought an eclectic mixture of assets in Japan, including an auto parts company, an electronics concern, a record label and what had been a boondoggle $3 billion resort complex."
In the article entitled "Japan's corporate faith-healer,"Kevin Rafferty writes, "After DePauw University in Indiana and a graduate degree from Yale School of Management, Collins worked with Cummins Engine in Indiana and for Booz Allen & Hamilton in Chicago before he got the priceless opportunity to work in mergers and acquisitions for Lazard Frères in New York where Felix Rohatyn was at the height of his influence. Collins remembers: 'It was the most amazing education with the most brilliant commercial people. Felix was at the peak of his powers having just saved this city, giving advice to the great and the good. It was just an incredible opportunity.'"
Collins tells the newspaper, "Shinsei is developing a great reputation for innovation, both in its consumer and its corporate franchise... Walk into the lobby. There is a Starbucks in the lobby. Our ATMs are staying open 24 hours a day. We are the leader in online banking and innovation in the way we serve consumers. We have led some of the most creative financings in the market.

On the other hand we have been very disciplined in credit analysis." The paper notes that Collins' firm "it is also opening new opportunities for its women staff, making a break from traditionally male-dominated corporate Japan."
Tim Collins tells Gulf News that he believes China's growing presence in foreign trade could be good for Japan's ailing economy. "China could easily be the catalyst for the resurgence of Japan. China needs Japan as badly as Japan needs China. We are interested in China derivatively. We are very interested in China as a market for our Japanese companies, as a source of competitive cost and suppliers. Japan ought to be very interested in China: it is the way that Japan becomes the Asian powerhouse again. Japan has some incredible strengths, unbelievable dedication to quality and
continuous improvement and process; loyalty to customers and employers and employees; great longterm thinking. In the main they are less skilled at marketing and strategy and finance, and that is part of what we bring to the equation when we put together a management team."
Access the story in its entirety by clicking here. In June, Collins was profiled in Fortune magazine (read more here). In December 2002, Tim Collins was the subject of a story that aired on CNBC. Read about it, and access video clips from the story, by clicking here.
Back