Newsweek Poll Shows Gen. Wesley Clark, at DePauw Tuesday, Leading Democratic Presidential Field
September 21, 2003
Read More About Gen. Clark's Visit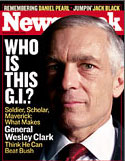 September 21, 2003, Greencastle, Ind. - "Just two days after entering the race for the Democratic presidential nomination, Retired Gen. Wesley Clark is already the frontrunner," notes WorldNetDaily.com of the four-star general who will speak at DePauw University Tuesday night. "According to a Newsweek survey, Clark wins the support of 14 percent of the registered Democrats and Democratic-leaning voters, surpassing former Vermont Gov. Howard Dean, with 12 percent, Connecticut Sen. Joe Lieberman, also with 12 percent, Massachusetts Sen. John Kerry, with 10 percent and Missouri Congressman Dick Gephardt, 8 percent." Gen. Clark appears on the cover of this week's Newsweek. Read more by clicking here and here.
Wesley Clark's Timothy and Sharon Ubben Lecture, "Facing America's Challenges," which begins at 7:30 p.m. Tuesday in DePauw's Neal Fieldhouse, is generating interest on and off campus, including newspaper stories in Indiana's Edinburgh Courier (read it here)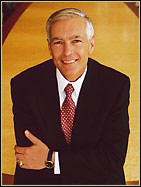 and the Arkansas Democrat-Gazette (read more here), and a television report by Indianapolis CBS affiliate WISH (read about it and see video clips here). In addition, reporters from national, regional and local media outlets continue to contact DePauw for information on covering Tuesday's Greencastle appearance. Like all Ubben Lectures, General Clark's speech is free and open to the public (see list of past speakers here).
Newsweek's Howard Fineman writes, "The poll is notable for three reasons. It shows that Clark starts with the star power and on-paper credentials to be credible; he diminishes the entire field in equal proportion; and Democrats, yearning for a winner (and suddenly confident of their chances of beating President Bush), still haven't found their shining knight."
Read more about Gen. Wesley Clark's DePauw visit here and here.
Media outlets with questions about Tuesday's events and credentials should contact Ken Owen, director of media relations, at (765) 658-4634.
Back