New College Savings Plan, Independent 529, Noted in Newspaper Story
September 22, 2003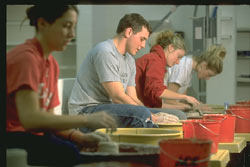 September 22, 2003, Greencastle, Ind. - "Parents have a new way to save for their children's college educations, especially if they want them to attend one of the nation's top private colleges and universities," begins a story in the Louisville Courier-Journal on the Independent 529 Plan. Launched earlier this month by a consortium of private colleges and universities, the Plan "will let families lock in tuition and mandatory fees at more than 220 participating institutions."
The Associated Press' Eileen Alt Powell notes, "Participating institutions range from Birmingham-Southern in Alabama to Wellesley in Massachusetts, Oberlin in Ohio and Princeton in New Jersey. In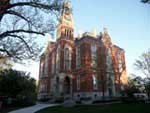 Kentucky, Centre College is participating. In Indiana, participating schools are Butler, DePauw, Earlham, Franklin, Saint Mary's, Evansville, Notre Dame and Valparaiso."
You can access the article online by clicking here.
Read the story posted September 3 at DePauw.edu on the Independent 529 Plan here.
Back