C-SPAN Airs Gen. Wesley Clark's Ubben Lecture
September 25, 2003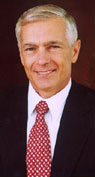 September 25, 2003, Greencastle, Ind. - C-SPAN, the national public affairs network which is available on cable and satellite television across the United States, is airing Tuesday night's speech by Democratic presidential candidate Wesley Clark at DePauw University. The Timothy and Sharon Ubben Lecture, "Facing America's Challenges," which was attended by 2,700 people, debuted early this morning on C-SPAN. The network says the speech will air again, perhaps as soon as this evening, but with Congress in session today (which the network is covering gavel-to-gavel) a firm rebroadcast time has not been set.

You can access C-SPAN's schedule online by clicking here. Read about Gen. Clark's speech, and access photos and audio and video clips from the lecture, here.
An Associated Press story on Clark's announcement of his economic plan in New York carries a photo from his DePauw appearance. The accompanying text states, "Retired general and Democratic presidential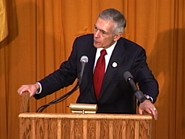 hopeful Wesley Clark makes a point during a speech at DePauw University, Tuesday, Sept. 23, 2003, in Greencastle, Indiana. Clark's speech, which was scheduled before he announced his candidacy, was entitled 'Facing America's Challenges.'" Access the story and image by clicking here.
Another photo from the Ubben Lecture appears alongside a story on CNN.com. View it here.
Back