Monon Bell Tickets On Sale October 13
September 25, 2003
Game to be Nationally Televised
Pre-Order Your 2003 Monon Bell DVD

[DOWNLOAD VIDEO: "See The Ballad of the Monon Bell" 9364KB]

[DOWNLOAD AUDIO: "Hear The Ballad of the Monon Bell" 2900KB]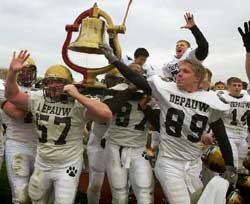 September 25, 2003, Greencastle, Ind. - If you're counting on being in Blackstock Stadium for the 110th Monon Bell battle, circle Monday, October 13 on your calendar. On that date, sales and on-campus distribution of DePauw's ticket allotment for the November 15 game against Wabash will begin. You can purchase tickets in the athletic department offices on the second floor of the Lilly Athletic and Recreation Center, or by calling (765) 658-4934 or (800) 446-5295 . Tickets will be available from 8:30 a.m. to 4 p.m. Monday through Friday until they are all sold. (top photo by Marilyn E. Culler)

[DOWNLOAD VIDEO: "1990 Monon Memory" 3182KB]As with all DePauw regular season home athletic events, admission is free to DePauw students, faculty and staff. However, for this game, students, faculty and staff need to pick up their tickets at the Lilly Center by showing a valid DePauw ID. Students are limited to one ticket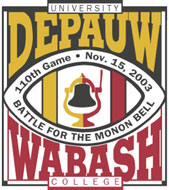 each, while faculty and staff are entitled to two each. General admission tickets are $10 each. Credit card payment will be accepted only on phone orders. No orders or reservations will be accepted prior to October 13.
As in the past, the Monon Bell is sure to be an early sellout and those fans wishing to see the game are advised to purchase the tickets early. Everyone needs a ticket to enter and there is no re-entry once leaving the stadium.

[DOWNLOAD VIDEO: "1974 Monon Memory" 1811KB]Coming in to this year's game, the all-time series is tied at 50-50-9. The 110th meeting between the two rivals kicks off at 1:05 p.m. on November 15. "We are excited to host Coach Nick Mourouzis'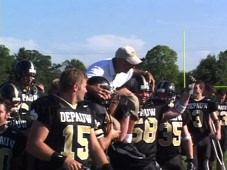 final Monon Bell game," DePauw Director of Athletics Page Cotton said. "I can't stress enough the importance of those wishing to see the game to plan accordingly and make their ticket arrangements early."
This year's Battle for the Bell will be televised nationally in high-definition by HDNet (read more here).

[DOWNLOAD VIDEO: "1955 Monon Memory" 1772KB]DePauw alumni will gather to watch the telecast and cheer on the Tigers at parties in dozens of cities across the nation. For a list of

sites and hosts (party hosts are still needed in some cities), click here.
Again this year, DePauw and Wabash will produce a DVD of the game. Read more about it here.
For more information on the DePauw football program, please visit the team's official site by clicking here. More details on the Monon Bell rivalry are available here.
Back