September Was a Record Month for This Web Site: 9.4 Million 'Hits'
October 1, 2003
October 1, 2003, Greencastle, Ind. - DePauw University's Web site logged a record 9,413,867 "hits" during the month of September, an average of 313,795 per day, continuing the growth its experienced for three years. Last month's record traffic smashed the previous record-high month of April 2003, when DePauw.edu drew 8,198,885 "hits" ("hits" is a count of all the successful hits including HTML pages, pictures, forms, scripts and files downloaded). To put the growth in perspective, traffic to the site was up by about 30% from September 2002 (7,260,618), double the "hit" count from September 2001 (4,731,435), and more than 300% greater than the September 2000 total (2,869,341).
The Web site welcomed 81,171 unique visitors and hosted 445,489 visits in April, both new record highs (unique visitors counts each user once per month; visits counts every time a user visits the site). The visits total breaks May's total of 79,922, while the unique visitors mark smashed the previous high
of 395,947 set in April. The average visitor spends 15 minutes per visit on DePauw's site.
The September 23 Timothy and Sharon Ubben Lecture by presidential candidate Gen. Wesley Clark was a major driver of traffic to the site. The main story on his DePauw visit, which includes photos and video and audio clips from the speech (read it here), is already the 8th most-read news story in the Web site's history. In fact, the site logged 447,075 hits on September 24, the day after General Clark's speech, which was covered by the national news media and seen on C-SPAN. Only the April 7, 2002 article which was posted within an hour after the fire at Rector Hall (read it here) generated more activity in such a short span of time. On September 10, DePauw announced the creation of the DePauw University Nature Park (read more here), another story that was very popular with visitors last month.
"The goal with the Wesley Clark lecture and other major campus news is to get information up as soon as possible... usually within an hour of an event wrapping up,"
says Ken Owen, director of media relations and a 1982 graduate of DePauw. "It's clear that our audience, and even some media, have become accustomed to checking the site when they know there's something big happening on campus, and that they regularly check in several times a day. The Web has become a powerful tool to deliver rich information -- text, photos, audio and video -- in a timely manner, and I'm thrilled that people are exploring the many things that our site has to offer."
"We continue to hear from alumni, parents and students who are studying off-campus, who tells us that DePauw.edu is a daily destination for them; a way to keep in touch with what's happening on campus and to the DePauw family and in virtual 'real time,'"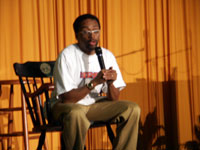 says Scott Cooper, Web director at DePauw. And visitors continue to log in from around the world. Top countries for foreign visits to the site included the United Kingdom, Canada, the Netherlands, Australia, Denmark, Singapore and Japan.
The most widely-read DePauw news of April 2003, which was previously the record month for "hits," included campus visits by Spike Lee (read more here) and Ben Folds (read more here); the demolition of Rector Hall (here) and naming of Reese Hall in the new Rector Village (here); and the Washington Post's listing of DePauw as a "hidden gem" among American colleges and universities (here).
Back