ArtsFest 2003, November 1-9, Will Examine 'Art & Politics'
October 6, 2003
October 6, 2003, Greencastle, Ind. - The second annual celebration of the arts at DePauw University, ArtsFest 2003, will take place Saturday, November 1 through Sunday, November 9. The theme of ArtsFest 2003 is "Art & Politics: Artists Reimagining Culture," and will include presentations by noted filmmaker Godfrey Reggio, artist Jane Golden, Palestinean-American poet Naomi Shihab Nye, and a performance by DePauw Theatre. For a complete listing of events, click here.
ArtsFest will begin November 1 with an evening screening of Naqoyqatsi, the cutting-edge and final film in Godfrey Reggio's esteemed Qatsi Trilogy. Legendary director Reggio and the film's editor and visual designer, Jon Kane, will participate in a question-and-answer session after the screening. Reggio, a former monk, will speak about the film's politics and his own vision for the film, and Kane will discuss the practical design and editing work that went into it. Read more about the director and his work here.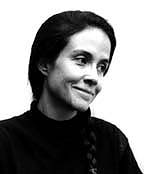 Wednesday, November 5, will feature a reading by renowned Palestinian-American poet Naomi Shihab Nye at 7:30 p.m. in Meharry Hall of historic East College. Nye describes herself as a "wandering poet" and has spent the last 30 years crossing the country and the world to lead writing workshops and inspiring students of all ages. She is the author and/or editor of more than twenty volumes, including 19 Varieties of Gazelle: Poems of the Middle East, Fuel and Never in a Hurry. Read more about her by clicking here.
November 6 will feature a speech by the nationally-recognized artists Jane Golden, who started out as a muralist in 1977 after graduating from Stanford University with a degree in fine arts and political science and who now serves as director of the Philadelphia Mural Arts Program. Golden has also worked as co-founder and director of the Los Angeles Public Art Foundation, training youth on probation to work on public art. Her work in Philadelphia began when she was hired by former mayor Wilson Goode as artistic director of the mural division of the Anti-Graffiti Network.
The program evolved into the Mural Arts Program in 1996 and is now part of the city's Department of Recreation. Read more about Jane Golden here.
Other ArtsFest events will include the DePauw Theatre's production of Bertolt Brecht's Mother Courage and Her Children, several School of Music concerts, English Department faculty and student readings, and a faculty exhibition at the Peeler Art Center.
Also, "Art Attack," a program of free art activities for children, is scheduled again this year in the Memorial Student Union Building on the afternoon of November 9. Parents are invited to bring their children to see performances and enjoy in other fun art activities free of charge.
For a complete listing of ArtsFest activities, click here. For more information, call (765) 658-6508.
Back