Report on Iraqi Weapons a "Huge Problem" for President, Says Former Congressman Lee Hamilton '52
October 6, 2003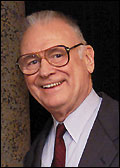 October 6, 2003, Greencastle, Ind. - A newly-released interim report released by the chief US weapons inspector "presents the president with a huge problem" of explaining why weapons of mass destruction have not been found in Iraq, says Lee Hamilton, a former congressman and 1952 graduate of DePauw University. The quote, carried by the New York Times and several other publications, continues, "He and his aides have said over and over again that they will find [unconventional weapons]. They cannot say that any more in light of the evidence."
Thursday, weapons inspector David Kay told Congress that the American-led team that's looking for weapons of mass destruction in Iraq has not found any stockpiles of biological or chemical weapons. But Kay stressed that his team has found "dozens of WMD-related program activities and significant amounts of equipment that Iraq concealed from the
United Nations during the inspections that began in late 2002," and is continuing to search the country. Critics say the report, issued late last week, proves that Bush exaggerated his claims about the Iraqi threat. Kay, according to USA Today, feels "that initial reaction to his interim report on Iraqi weapons focused too much on the failure to find chemical or biological weapons and not enough on secret laboratories and rocket programs investigators have found."
You can access an article that contains the quote from Lee Hamilton, who now serves as director of the Woodrow Wilson International Center for Scholars in Washington, DC, and as vice-chairman
of the National Commission on Terrorist Attacks Upon the United States, by clicking here. Read the story in USA Today here.
Last April 22, Hamilton returned to DePauw to take part in a discussion on the Middle East with William A. Brown, former US Ambassador to Israel and Thailand. You can learn more about that event, and access audio clips of the talk, here.
Back