Prof. Jeff McCall '76 Interviewed on National Radio Program, Viewpoints
October 6, 2003
October 6, 2003, Greencastle, Ind. -
[DOWNLOAD AUDIO: "Program Open" 65KB] Jeff McCall, professor of communication at DePauw University, is one of several media analysts who were featured recently on the nationally distributed public affairs radio program, Viewpoints. Noting that companies used to sponsor shows (i.e. Hallmark Hall of Fame) for the prestige of having their names attached to quality programs, Viewpoint's host says,
[DOWNLOAD AUDIO: "A New Environment" 137KB] "Jeff McCall, professor of communication at DePauw University in Greencastle, Indiana, says the industry may be doing well, but not that well."
"Nobody can afford it," Dr. McCall tells the program. "If you're Xerox or IBM... none of those advertisers are into doing this for public service anymore. They need visibility, and the only way you can get visibility is to put your commercials in the program somewhere."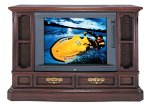 Sporting events are loaded with paid messages these days, and
[DOWNLOAD AUDIO: "Sports" 110KB] "McCall says it seems a team can't even make a double play without it being sponsored by someone." The professor, who is a 1976 graduate of DePauw, says besides sponsored "plays of the day" and other in-game features, "you also have virtual messages on the backstop of the baseball game, or on the football field or, if you watch car racing, they have virtual advertising on the track... Sports programming is probably more commercialized than anything at this time," Dr. McCall says.
Increasingly, products are making their way into movies and television shows. If so-called "product placements" intrude upon the plotlines of popular shows, he doesn't think they will adversely affect the program's popularity.
[DOWNLOAD AUDIO: "Friends" 221KB]
"I really think that the audiences are willing to live with that. If you're a fan of Friends, you're probably pretty much wrapped up in the character that you like or the theme that they have or the lifestyle that's being demonstrated... the storyline is, to a certain extent, almost coincidental to your experience of watching that program."
Viewpoints is heard every week on more than 200 stations nationwide and is distributed by MediaTracks Communications of Des Plaines, Illinois. For more information on the program, click here.
Back