Crimmel Colloquium to Examine 'Service-Learning and Community-Based Research in Liberal Education'
October 7, 2003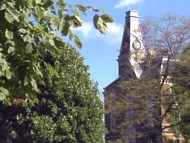 October 7, 2003, Greencastle, Ind. - The Hays and Margaret Crimmel Colloquium on Liberal Education, "Service-Learning and Community-Based Research in Liberal Education," begins Wednesday at DePauw University and continues through Friday. The Colloquium will address the proper relationship of the liberal arts college to society, the liberal arts curriculum and the academic environment, and the roles of the college teacher and the faculty organization. In the spirit of Socratic dialogue, participants are invited to explore the connections among service-learning, community-based research, and ideals of liberal education. The Colloquium is free and open to the public.
Edward Zlotkowski, professor of English at Bentley College in Massachusetts, and noted author Ernest T. Stringer, will present the keynote addresses. Zlotkowski -- professor of English at Bentley College, a senior faculty fellow at Campus Compact, and a senior associate at the Policy Center for the First Year of College –- will speak at 5 p.m. Wednesday in the Student Social Center of the Walden Inn on "Recontextualizing Liberal Learning."
Dr. Stringer, author of Action Research in Education and Community Based Ethnography: Breaking Traditional Boundaries of Research, Teaching and Learning, has played a leading role in developing action research as a legitimate and rigorous methodology within the academic world. He will speak Wednesday at 8 p.m. in the Student Social Center on "Community Based Research: Linking University and Community."
For a complete listing of Crimmel Colloquium events click here. Learn more about the Colloquium here.
Back