Kevin Waltman '95 Authors Nowhere Fast
October 7, 2003

October 7, 2003, Greencastle, Ind. - "Make room, Dean Koontz and David Bradley. Another Bedford native has written a novel. And it's a good one," writes Pennsylvania's Bedford Gazette of Kevin M. Waltman, a 1995 graduate of DePauw University and author of Nowhere Fast. Push Books, an imprint of Scholastic Inc., has published the book, Waltman's first. He is currently enrolled in the graduate level creative writing program at the University of Alabama in Tuscaloosa.
The Gazette's Mike Herncane says Nowhere Fast is a "gripping and fast-paced story [that] centers on the conflicts a confused 15-year-old boy experiences in his Indiana hometown one summer." The fictional town is Dearborn Springs, but the boy works at a place with a name that will resonate with people who know Greencastle -- the Dairy Castle. The newspaper story notes that Waltman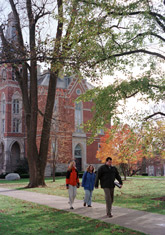 is a DePauw graduate and the son of former Tiger basketball coach Royce Waltman, who is now head coach at Indiana State University.
Kevin Waltman tells the newspaper, "I've had e-mails from a lot of teenage readers who appreciated the realism of the novel." David Levithan, who works for the publisher, notes, "When he sent me some of his early manuscripts, I saw right away he was the real deal... Everybody here is thrilled with the book. We're happy we've signed up Kevin for a second novel, which should appear in the spring of 2005."
You can learn more about Nowhere Fast, and order the book, at Amazon.com and Barnes & Noble.com. Read an interview with Kevin Waltman at the publisher's Web site here.
Back