CNN.com Quotes Prof. Kevin Howley
October 7, 2003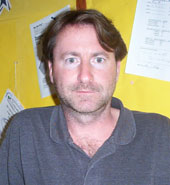 October 7, 2003, Greencastle, Ind. - "Wildly successful M*A*S*H also upped the ante on a familiar theme, according to Kevin Howley, who teaches communications studies at DePauw University," writes Barbara Keenlyside in an article at CNN.com. The story, which asks "What makes a TV show a lasting hit?," continues, "'M*A*S*H has its roots in F-Troop... and Hogan's Heroes and Sergeant Bilko with Phil Silvers,' Howley says. 'It took the generic conventions of cutups in the service' and added black humor and a bleak view of war. 'You have to keep in mind the historical cultural context -- M*A*S*H was set in Korea but it really was all about Vietnam.'"
Later, Keenlyside notes, "Terrific ensemble acting and story lines that weave in and out give writers lots of hooks to hold viewers' interest and build upon. 'An ensemble cast allows you to do a couple different things:

one is multiple story lines... and a couple of story lines that can run across different seasons,' Howley says."
You can access the story in its entirety by clicking here. Dr. Howley, an assistant professor of communication arts and sciences at DePauw, recently wrote about the Federal Communications Commission's move to further deregulate the media. Read more by clicking here.
Back