Washington Post: DePauw Speech by Gen. Wesley Clark May Have Violated Federal Election Laws
October 8, 2003
October 8, 2003, Greencastle, Ind. - "Retired Gen. Wesley K. Clark may have violated federal election laws by discussing his presidential campaign during recent paid appearances, according to campaign finance experts," writes Jim VandeHei in today's Washington Post. "Clark, a newcomer to presidential politics, touted his candidacy during paid appearances at DePauw University in Indiana and other campuses after he entered the presidential race on September 17," which, according to the story, may constitute a violation of Federal Election Commission regulations.
"Clark, like any other candidate, would likely be permitted to deliver the paid speeches only if they did not 'expressly' cover his campaign or his political opponents, the experts said," the article continues.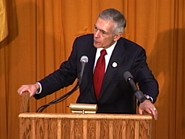 "But in his speeches, Clark has talked about his campaign positions and criticized President Bush's policies. At DePauw, during a question-and-answer session after the speech, Clark 'absolutely' covered his political views on everything from education to the economy, said Ken Bode, a visiting professor of journalism who moderated the session. Larry Noble, a former FEC general counsel who heads the nonpartisan Center for Responsive Politics, said Clark's speeches are 'problematic' because 'the insertion of campaign-related items into his speech can turn it into a campaign speech.'"
VandeHei notes, "Clark's appearance on Sept. 23 at DePauw appears most problematic for the candidate.
Throughout his speech to the DePauw audience, some of whom waved 'Draft Clark' signs they were handed on the way in, Clark blasted Bush's Iraq policy and outlined how he would handle foreign affairs differently. During the Q&A that followed, Clark talked in detail about his qualifications and ideas for the presidency."
You can access the complete story at the Washington Post's Web site by clicking here.
Read a comprehensive account of Gen. Wesley Clark's DePauw Timothy and Sharon Ubben Lecture here.
Back