World Renowned Saxophonist Eugene Rosseau Joins DePauw's Percussion Plus Project for Tuesday Concert
October 9, 2003

October 9, 2003, Greencastle, Ind. - On Tuesday, October 14, the Percussion Plus Project will present its first concert of the season, with Eugene Rousseau as guest soloist. The saxophonist has been hailed "the perfect virtuoso" by international critics. The concert will begin at 7:30 p.m. in Thompson Recital Hall of DePauw's Performing Arts Center and is free and open to the public.
The program will consist of four contemporary works for saxophone and percussion by French, Slovenian, Japanese, and Russian composers. The major work on the program is the Concerto Piccolo by Russian composer Edison Denisov. In this rarely-performed showpiece, Rousseau will play successively on all four saxophones: soprano, alto, tenor, and baritone. The piece will be accompanied by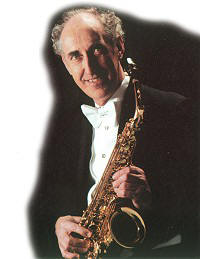 six percussionists playing a huge array of drums, including gongs, cymbals, cowbells, keyboard instruments, and other colorful percussion.
Rousseau, a member of the artist faculty at the University of Minnesota, is also a Distinguished Professor Emeritus at Indiana University Bloomington (1964-2000), and is one of the world's most famous saxophonists. His guest professor appointments include the Paris Conservatory, the Hochschule für Musik in Vienna, Arizona State University, the University of Iowa, the University of Nebraska, and the University of North Texas. He holds the title of Honorary Professor at the Prague Conservatory and the Instituto G. Braga in Italy. Rousseau has performed with the Minnesota Orchestra, the Indianapolis Symphony, the BBC Orchestra in London, the Prague Symphony and many other well-established ensembles. He has also presented classical recitals and master classes throughout the world.
According to the Washington Post, "In the hands of Eugene Rousseau, the saxophone becomes a facile and beautifully modulated wind instrument, capable of fine song and great capability." The Yamaha Corporation, for whom Rousseau has been chief consultant for saxophone research since 1972, has dubbed him a "living legend."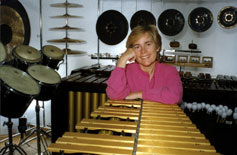 The Percussion Plus Project is an ensemble-in-residence at DePauw, and is led by School of Music Dean Amy Lynn Barber. This is its second season based in Greencastle, after many years in Europe. Many of the area's finest professional percussionists perform with the ensemble. In addition to their concerts on the DePauw campus, and at the Indiana Historical Society in Indianapolis, the ensemble recently performed at the International Womens' Brass Conference, and will perform at the Indiana Music Educators Association convention in Indianapolis.
For more information about this or other School of Music events, call (765) 658-4379 or click here.
Back