Michael Qualley '92 Named VP at Forsythe Solutions Group
October 9, 2003
October 9, 2003, Greencastle, Ind. - Michael J. Qualley, a 1992 graduate of DePauw University, has been named to the new post of vice president of support services at Forsythe Solutions Group Inc., a national provider of technology infrastructure services. In his new role, Qualley will help build the company's expanding maintenance contract, support contract, and software license management business, which is the latest outgrowth of Forsythe's "one stop shopping" IT infrastructure services model.
"I'm excited to be taking part in Forsythe's continued evolution as a full-service IT infrastructure solutions provider," says Qualley. "Forsythe has a long history in the IT business, and has grown and evolved over time to keep pace with its customers' changing needs. With the increased integration of complicated, multi-platform and multi-application environments, companies have to devote more and more resources to simply keeping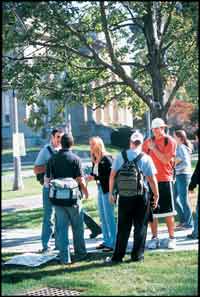 track of all their IT assets. As a result of this trend, combined with increased cost management pressure, organizations are increasingly looking to simplify the internal tracking process, and potentially even outsourcing such business processes."
A company news release on Business Wire states, "Qualley, age 33, was formerly president and chief operating officer of Neogration Inc., Chicago, a provider of outsourcing services launched by ABN AMRO North America to leverage ABN AMRO's in-house business processes and technology investments. He holds a bachelor's degree in computer science from DePauw University, Greencastle, Indiana." Read more by clicking here.
Since 1971, Forsythe has served as a national provider of technology infrastructure solutions to organizations across all industries, including many Fortune 1000 companies. Forsythe acts as a trusted, independent advisor, helping organizations build cost-effective IT infrastructure they can trust. Visit the company's Web site by clicking here.
Back