Fast Food Nation Author Eric Schlosser to Deliver Ubben Lecture November 11
October 10, 2003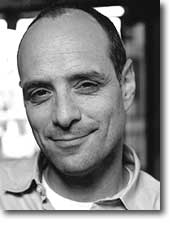 October 10, 2003, Greencastle, Ind. - Eric Schlosser's book Fast Food Nation, which has been on the New York Times' best-seller list for 85 weeks, "created a national sensation from which McDonald's and its fellow burgermeisters are still reeling," writes David Kipen in the San Francisco Chronicle. On Tuesday, November 11, 2003, Schlosser will visit the DePauw University campus to deliver a Timothy and Sharon Ubben Lecture. Schlosser, whose latest book, Reefer Madness: Sex, Drugs and Cheap Labor in the American Black Market, is earning rave reviews, will speak at 7:30 p.m. in Kresge Auditorium of the Performing Arts Center. The event is free and open to the public.
The Washington Post describes Eric Schlosser as "part essayist, part investigative journalist. His eye is sharp, his profiles perceptive, his prose thoughtful but spare" (read more here). In his work, Schlosser, a correspondent for Atlantic Monthly since 1996 and a contributor to Rolling Stone and the New Yorker, investigates the hidden realms of American business and culture and their far-reaching effects on our lives. Heralded as "society's quiet crusader," he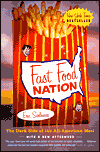 challenges people to think about such critical and often overlooked issues as food safety, workers' rights, the war on drugs, marketing to children and the epidemic of obesity. Schlosser offers an alternative view of what's happened in the United States in the last 30 years. His intensive library research and field work have established him as one of America's leading cultural critics. "Schlosser has a flair for dazzling scene-setting and an arsenal of startling facts," writes the Los Angeles Times. The San Francisco Chronicle's Kipen adds that Schlosser is "a prodigiously gifted reporter with an unerring nose for the big story hiding in plain sight and for the examples that illustrate it best" (read more here).
"In his best seller, Fast Food Nation, Eric Schlosser looked at the dark side of America's taste for Big Macs," wrote Fran Smith in USA Today. "His new book, Reefer Madness: Sex, Drugs and Cheap Labor in the American Black Market, is another eye-opener. It examines the vast underground economy catering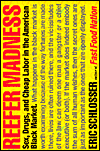 to our seemingly insatiable appetite for pot, porn and sweet strawberries year-round. Schlosser says black markets tell a lot about a nation's character, and the story here isn't pretty."
''The current demand for marijuana and pornography is deeply revealing,'' Eric Schlosser writes in the introduction to Reefer Madness. ''Here are two commodities that Americans publicly abhor, privately adore and buy in astonishing amounts.'' In a Salon.com review of the new book, Gary Kamiya writes, "America is a monumentally two-faced country. We love to smoke reefer, but our laws treat marijuana as if it's the same as heroin, and we sometimes hand dope dealers longer sentences than murderers. We love to ogle pictures of people having sex, but our national line is still that we're shocked, shocked by the unspeakable vileness of pornography. And to save $50 a year off our grocery bills, we close our eyes to the fact that our choicest fruits and vegetables are picked by illegal immigrants who are among the poorest workers in the country. Hypocrisy is one of the indictments Eric Schlosser levels against America in Reefer Madness, his smart,
level-headed look at the unpleasant truths that emerge when you turn over the rock of mainstream American business and check out what's underneath."
"As corporate power and fundamentalist extremism run amok across the globe, a lucid, humane voice like Schlosser's gives hope and inspiration," opines Philippe Bourgois, professor and chair of the department of anthropology, history and social medicine at University of California at San Francisco, in his Washington Post review of Reefer Madness. "He also arms us with conscientiously well-documented facts (including a 67-page appendix of sources and bibliography) that come alive in compelling human portraits of the victims of bad government and corporate greed. He has identified a state of emergency in America, and does not want big business and bad government to go on as usual."
Released in May, Reefer Madness appeared on the New York Times' best-seller list. Its predecessor, Fast Food Nation, is in its sixth printing, reached #1 on the Chronicle of Higher Education's list of
"What They're Reading on College Campuses," has been translated into more than 20 languages and has sold more than 1 million copies. USA Today noted, "Fast Food Nation is the kind of book that you hope young people read because it demonstrates far better than any social studies class the need for government regulation, the unchecked power of multinational corporations and the importance of our everyday decisions."
A graduate of Princeton University, Schlosser won a National Magazine Award for his articles "Reefer Madness" and "Marijuana and the Law" and has received a Sidney Hillman Foundation Award for Reporting. His work has been nominated for several other National Magazine Awards and for the Loeb Award for business journalism. Schlosser's next book will explore the question, "How does the land of the free come to have the largest prison population in the history of the world?"
The Ubben Lecture Series has brought distinguished individuals to the DePauw University campus since 1986,
including 2004 presidential candidate and retired General Wesley Clark, former British Prime Ministers Margaret Thatcher and John Major, former Israeli Prime Minister Shimon Peres, General Colin Powell, Ross Perot, Spike Lee, Mike Krzyzewski, Harry Belafonte and ice cream entrepreneurs Ben & Jerry. To view a complete list of Ubben Lecturers, which includes links to video clips and news stories, click here.
Back