Best-Selling Author & Learning Expert Dr. Mel Levine to Present Thursday Workshop
October 13, 2003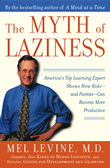 October 13, 2003, Greencastle, Ind. - "Laziness is not an innate trait," writes Dr. Mel Levine in his new book, The Myth of Laziness: America's Top Learning Expert Shows How Kids -- and Parents -- Can Become More Productive. "We all are born with a drive to produce, and like saplings growing in an orchard, we have within us the resources to bear fruit, to be and to feel useful and effective… Some individuals somehow, somewhere lose momentum; in the pursuit of accomplishment they fail to produce; they stall out. And often they face accusations of laziness. In truth, through no fault of their own, they suffer from hidden handicaps that disrupt and interrupt their output. They are not lazy; they have output failure."
Levine, author of the #1 New York Times bestseller A Mind at a Time: America's Top Learning Expert Shows How Every Child Can Succeed, and a recent guest on television's Oprah Winfrey show, will come to the campus of DePauw University October 16, 2003 to present a workshop, "Students with Learning Differences."

The program, which runs from 10:30 a.m. to 3 p.m. in the Student Social Center of the Walden Inn, is presented free of charge. However, interested persons must pre-register by calling (765) 658-4027 or by e-mailing here.
In The Myth of Laziness, based on his thirty-plus years of experience as a researcher, clinician, and teacher devoted to understanding the developing mind and helping kids learn, Mel Levine blames the problem of low productivity to a widespread yet woefully neglected phenomenon: 'output failure.'
"Output failure is not a distinct syndrome, nor should it be understood as any sort of label or category. It is a result, not a cause," Dr. Levine explains. "Low output occurs when one or more neurodevelopmental dysfunctions interfere with productivity." Levine stresses, "Output failure is by no means confined to the first twenty-one years of life. The condition plagues numerous adults as well and very commonly leads to chronic career underachievement and gnawing discontent…Like students with output failure, the countless adults who cannot seem to get the job done deserve our understanding and our compassion. They are not intentionally turning off their spigots of output. Branding them as lazy accomplishes nothing."
Mel Levine, M.D., is a professor of pediatrics at the University of North Carolina Medical School

and the director of the University's Clinical Center for the Study of Development and Learning. In addition to authoring his best-selling books, Dr. Levine is also a co-founder of All Kinds of Minds, a nonprofit institute devoted to the study of differences in learning, and co-chairs its board of directors with Charles R. Schwab. A Rhodes scholar and a graduate of Harvard Medical School, Dr. Levine served for fourteen years as chief of the division of ambulatory pediatrics at the Children's Hospital in Boston and was an associate professor of pediatrics at Harvard before moving to North Carolina.
Back