Pediatric Neurosurgery Publishes Article by Senior Science Research Fellow
October 14, 2003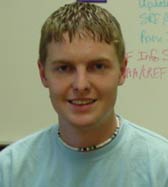 October 14, 2003, Greencastle, Ind. - Matt Abbott, a senior Science Research Fellow at DePauw University, is the lead author of an article published in the journal Pediatric Neurosurgery (Volume 39, Number 5, 2003). The article which Abbott co-authored, "Osteoblastoma," is the result of his Science Research Fellows research internship at Beth Israel Hospital in New York City during the summer of 2002. Read more about the article by clicking here.
Articles published in Pediatric Neurosurgery, the official journal of the American Society of Pediatric Neurosurgeons (ASPN), feature new

information and observations in pediatric neurosurgery and the allied fields of neuroradiology and neuropathology as they relate to the etiology of neurologic diseases and the operative care of affected patients. In addition to experimental and clinical studies, the journal presents critical reviews which provide the reader with an update on selected topics as well as case histories and reports on advances in methodology and technique. Such focus promotes many studies which are of interest to surgeons, physicians, and investigators concerned with the surgical diseases of the nervous system.
Learn more about the Science Research Fellows program by clicking here.
Back