"FCC Needs to be More Than a Traffic Cop," Prof. Jeff McCall '76 Writes in Newspaper Op-Ed
October 16, 2003
October 16, 2003, Greencastle, Ind. - "If the Federal Communications Commission were a baseball team, it would make the Detroit Tigers look like World Series contenders," begins an opinion piece by Jeffrey McCall, professor of communication arts and sciences at DePauw, which appears in today's Indianapolis Star. "The FCC could make the Cubs and Red Sox look like dynasties. We can laugh at the inept Tigers, and the Cubs and Red Sox have been loveable losers for decades. For the FCC, however, this is no laughing matter, and nobody seems to love them."
Dr. McCall writes that recent FCC rulings on broadcast industry consolidation, diversity in ownership, and obscenity have all fallen flat. "As one observes the FCC's recent work, the words of the immortal Casey Stengel come to mind. As Casey watched his woeful Mets of the early 1960s lose again, he uttered the legendary question, 'Can't anybody here play this game?' The FCC still seems to efficiently manage the broadcast industry's technical standards, but in terms of content and ownership policy, the commission is perplexed and increasingly irrelevant.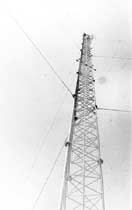 The FCC needs to be more than just a traffic cop."
McCall, a 1976 graduate of DePauw, concludes the op-ed piece by noting, "In the 1920s, when the emerging broadcast industry was ineffectively run by the Department of Commerce, Secretary Herbert Hoover called a series of workshops to find a way to manage broadcasting. Various thinkers, educators and engineers came together under Hoover's guidance and pounded out a philosophy of regulation that led eventually to the FCC and the Communications Act of 1934. That work served the country well enough for decades, but it's clear now that the regulation of electronic mass media needs a broad-based reinvention. It's time for FCC Chairman Michael Powell to step up to the plate and lead that reinvention."
Read the essay in its entirety at College News.org, which highlights stories of interest from DePauw and other liberal arts colleges which are members of the Annapolis Group.
Source: Indianapolis Star
Back