"We're Prepared to Help You Become Leaders," President Bottoms Tells HS Students at St. Louis Reception
October 17, 2003
October 17, 2003, St. Louis, Mo. -
[DOWNLOAD AUDIO: "Search Criteria" 618KB] "I hope when you're doing your college search -- and I might not have said this four or five years ago -- I hope you look for a college that you think will train you for citizenship, will train you for leadership in a world that has so many, many problems," DePauw University President Robert G. Bottoms told more than 175 prospective students, parents and alumni who attended last night's Presidential Reception in St. Louis. The event, held in Danforth Chapel at Mary Institute and Saint Louis Country Day School (MICDS), provided area high school students who are interested in DePauw with an opportunity to learn more about the University and its programs and meet face-to-face with faculty and administrators.
In his remarks, Dr. Bottoms talked of how the world has changed since the events of September 11, 2001, and of how, "for the first time, Americans now realize that we are vulnerable on our own soil. This is a new experience for us."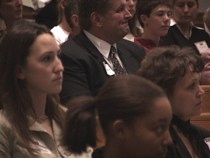 He told the crowd that, increasingly, Americans are questioning the nation's institutions about the ongoing conflict in Iraq, the recent accounting scandals in corporate America, and troubling breaches of journalism practices at the New York Times.
[DOWNLOAD AUDIO: "Tomorrow's Problem Solvers" 720KB] "And so, when you choose a college, I hope one of the things you're thinking about is how that particular college might use your talents and link the education you'll receive there to the skills you'll need to help solve some of the world's problems: to make the world, if you please, a better place."
The president continued, "We take very seriously our training of our students for citizenship," and told the high school juniors and seniors that DePauw believes
[DOWNLOAD AUDIO: "Preparing Tomorrow's Leaders" 911KB] "the role of education in a university is to prepare you for the role you will take in history. Now that's a rather big idea.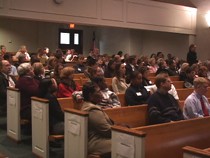 You may not think of yourselves as people who will actually shape history, but you are. History is not made by other people, history is something we do, we ordinary people, and education has a big role in this."
DePauw -- where all classes are taught by faculty members and not teaching assistants and with a faculty-student ratio of one-to-ten -- provides its students with countless opportunities for interaction, examination and intellectual engagement, Dr. Bottoms stressed. He noted that students also benefit from the example shown by loyal DePauw alumni who return to campus on a regular basis: people like Lee Hamilton '52, a former U.S. Congressman who now serves as director of the Woodrow Wilson International Center for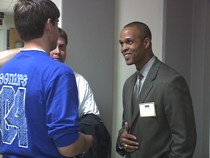 Scholars in Washington, DC, and vice-chairman of the National Commission on Terrorist Attacks Upon the United States; James B. Stewart '73, Pulitzer Prize-winning author and investigative journalist; Steve Sanger '68, CEO of General Mills and Tim Solso '69, CEO of Cummins Inc., whose companies are ranked 1 and 2 in the listing of America's "100 Best Corporate Citizens" by Business Ethics magazine; and Karen Koning AbuZayd '63, assistant secretary-general of the United Nations and deputy commissioner-general of the UN Relief and Works Agency.
[DOWNLOAD AUDIO: "What We're About" 1100KB] "If these people were here instead of me and Madeleine [Eagon, vice president for admission and financial aid], and sat down to talk to you about their careers, one common thread would be is they would say that while they were at DePauw they learned the values that served them so well in their careers. That's really what we're about: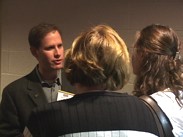 DePauw is a place where you can practice being a member of a responsible community [via] volunteer service through the Hartman Center or student leadership addressing problems that we face."
In closing, President Bottoms stated,
[DOWNLOAD AUDIO: "Cultivating Leadership" 940KB] "A person doesn't just suddenly lead. You have to spend time in preparation, and DePauw can be a place, for the right people, for intense preparation. It can be a place that concentrates as much on building and forming character as the grades people earn in class. It can be a place where you, like others who've come before you, can use your four years to prepare for a lifetime of citizenship."
Bottoms, who has led DePauw since 1986, noted that the University has many things to offer, including scholarships made possible by generous alumni, opportunities for internships and study abroad, and access to top-rate facilities and has been named a top tier national liberal arts college and a "best value" by U.S. News & World Report (read more here).
He added that DePauw students also have fun.
[DOWNLOAD AUDIO: "Why DePauw?" 963KB] "But I hope one of the reasons you come is because what you really want out of college is to use all of our resources -- our faculty, our extracurricular activities, our discussions, our visitors -- to help equip you to live a responsible life as a citizen in a troubled world. And as you evaluate colleges, I hope that's on your radar screen. We invite you to come to DePauw and invite you to apply. We're prepared to help you become leaders."
Prospective students who would like more information on DePauw University, including access to an online application form, can click here.
Back