Norval Stephens '51 Co-Chairing National, Greek-Led Initiative to Combat Problem Drinking on College Campuses
October 18, 2003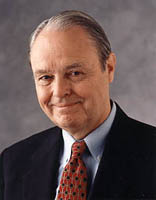 October 18, 2003, Greencastle, Ind. - "A new coalition of 41 national and international fraternities and sororities -- half of them based in Indianapolis -- is tackling the persistent problem of binge drinking among college students," and an alumnus of DePauw University is helping to lead the effort, according to a story in today's Indianapolis Star. "Representatives of the Greek organizations voted Friday to form The Genesis Group at a meeting at the Delta Tau Delta headquarters in Indianapolis. 'This is the most important problem on American college campuses right now,' said Norval Stephens, co-chairman of the group. 'We're going to be part of the solution.'" Stephens is a 1951 graduate of DePauw and a member of the University's Board of Trustees.
The Star's Barb Berggoetz writes, "Organizers called The Genesis Group a 'historic consortium' that will work to change the culture of high-risk alcohol consumption that exists on campuses and within Greek organizations.
These Greek organizations represent more than 60 percent of all undergraduates who are members of the nearly 80 fraternities and sororities at the nation's 3,500 undergraduate college campuses. Twenty-six of the organizations are based in Indianapolis... Later this year, the coalition will look for one or two colleges to become test sites in the five-year program. The hope is that other schools will join later."
Of the initiative, Richard McKaig, dean of students at Indiana University, says, "It looks very exciting. I think it's been a continuing frustration to us (college deans), year in and year out, to deal with these alcohol problems and still have the binge drinking incidents that we have on this campus."
You can read the article in its entirety at the newspaper's Web site by clicking here.
The story was also picked up by the Associated Press and can be accessed at the Web site of Louisville, Kentucky television station WHAS here (a free registration is required).
Back