Rededication of the Julian Center Will Include Weeklong Celebration of Science & Math Programs
October 20, 2003
October 17, 2003, Greencastle, Ind. - "Science and Math Week is a chance for us to celebrate the strength of the science and mathematics programs at DePauw," says Neal B. Abraham, vice president for academic affairs and dean of the faculty, of the weeklong series of events that will lead up to the rededication of the Percy L. Julian Science and Mathematics Center. A series of lectures, poster presentations and other events will begin Monday, October 27, with the rededication of the University's flagship sciences building on Saturday November 1 at 10:30 a.m. as part of DePauw's Old Gold Weekend.

[DOWNLOAD AUDIO: "A Tradition of Excellence" 261KB] "Science has always been important to DePauw and to DePauw graduates," Dr. Abraham adds, noting that among the nation's liberal arts colleges,
"DePauw ranks 15th in the number of students who have graduated with mathematics and science majors who go on to earn Ph.D.s and continue their science careers."
Featured speakers and guests during the week will include three prominent alumni: former astronaut Joseph P. Allen IV '59 (seen at right), retired president and CEO of Veridian Corporation; Gregg Dieckmann '88, biochemist from the University of Texas at Dallas; and Lloyd Flanders '62, senior vice president of Neurocrine Inc. The rededication ceremony will feature a keynote address by Jeanne Narum, executive director of Project Kaleidoscope, a national initiative for the reform, improvement and strengthening of undergraduate mathematics and science education. She will speak on ""Learning Environments that Grow 21st Century Leaders," addressing the role of liberal arts colleges in undergraduate science education.
A three-year renovation and expansion of the Julian Center has nearly doubled the
size of the building and provides outstanding new laboratory space, equipment and technology that supports the teaching and learning of science at DePauw. Abraham says there will be ample opportunities during the week for students, alumni and guests to see

[DOWNLOAD AUDIO: "Extraordinary Opportunities" 277KB] "the extraordinary opportunities that the building provides -- the teaching and learning facilities, the class-lab combinations, the computer labs [and] the special research facilities and equipment that are available."
Student research will also be presented throughout the week via more than 70 posters that will displayed within the Julian Center, representing math, chemistry, physics and astronomy, geology and geography, computer science, psychology and biology.
"Those posters will demonstrate the accomplishments of students in work they have done at DePauw or work they have done at other institutions, such as through summer or semester-long internships," Dr. Abraham says.

[DOWNLOAD AUDIO: "Nearly 30%" 172KB] "Nearly 30% of our students graduate with a major in science. It'll be a chance to celebrate all of the work that they do and the important work that they and their faculty members do together."
The festivities of the last week in October will provide an opportunity to remember and honor the building's namesake, Percy L. Julian,

[DOWNLOAD AUDIO: "Percy Julian '33" 561KB] "and to see the links that he built between his liberal arts education and his success in science," states Abraham. Dr. Julian, a 1920 graduate of DePauw, was a chemist best known for synthesizing physostigmine,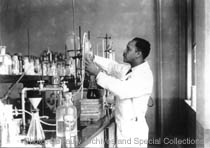 which paved the way for affordable treatment of glaucoma. "He was, if you will, perhaps one of the first of the Management Fellows. He turned his experiments in science and his inventions into a very successful pharmaceutical and scientific invention company that he later sold for millions of dollars... and continued his work in science education and science research up until the time he died." A crew from the PBS program NOVA, which is working on an upcoming two-hour profile of Dr. Julian, will be on campus to cover the Julian Center's rededication. The same team was on campus to conduct interviews in May 2002 (read more here).
While the week will embrace the University's 166-year-long traditions, it will also celebrate what Abraham calls its

[DOWNLOAD AUDIO: "New Strengths" 599KB] "new strengths. The computer science program, which formed as its own department seven or eight years ago, now has nearly 40 majors a year. It is the
largest computer science program of any liberal arts college in the country. We have a biochemistry major with over 40 students now enrolled in a major that was just created 18 months ago. There is work on environmental geoscience and neuroscience, as well as the traditional strengths in biology, geology, physics and chemistry."
View the complete listing the events that will mark the rededication of the Julian Center, click here.
Back