DePauw Named One of "America's Most Connected Campuses"
October 21, 2003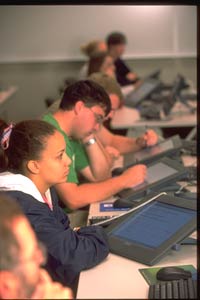 October 21, 2003, Greencastle, Ind. - "Five years ago, your college was on the bleeding edge if it allowed you to register for classes online. These days it takes a little more," begins an article in Forbes that lists the "America's most connected campuses," rankings that include DePauw University at #279. Compiled by the Princeton Review, the survey examines the technological sophistication of the leading US colleges. The rating included responses from 106,000 college students as well as data from campus administrators. Other criteria included the student/computer ratio, wireless access on campus, the breadth of the computer science curriculum (read more here).
"This ranking provides further proof that our technology initiatives are paying off and that DePauw has become a national model for using technology to enhance teaching and learning," says Dennis A. Trinkle, director of 361° initiatives, coordinator of information services and technology, and Tenzer University Professor in Instructional Technology at DePauw. "The criteria that the survey used also highlight that DePauw is transforming every aspect of the student college experience,
from online registration to how one requests inter-library loan materials. The hard work of our Administrative Upgrade Team really shines here. DePauw is using technology to help students work and interact more effectively and efficiently."
Dr. Trinkle, a 1991 graduate of DePauw, adds, "You could say that this ranking provides only an inkling of where we stand today, because it does not include any of the additions made in the past year to our technology facilities and resources. DePauw made the list of the most connected colleges and universities without including the Julian or Peeler buildings. We should jump significantly in the 2004 ranking."
DePauw University has received other external validation for its technology programs, including the 2003 EDUCAUSE Award for Systemic Progress in Teaching and Learning for its 361° Initiatives. One of six EDUCAUSE Awards for leadership and innovative use of technology in higher education,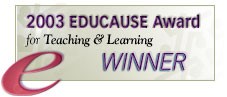 the EDUCAUSE Award for Systemic Progress in Teaching and Learning has never before been presented to a university or college that is not a doctoral/research institution. This prestigious honor recognizes campus-wide programs and practices that use information technologies to support student-centered teaching and learning in ways that are transformative, sustainable, and replicable. DePauw and its 361° team will be honored at the EDUCAUSE annual conference in Anaheim, California, on Thursday, November 6 where they will also make a presentation on DePauw's technology initiatives (read more here).
In late April, the New Media Consortium (NMC) notified DePauw that it has been named a New Media Center for its 361° initiatives (read more here), one of only about 125 institutions worldwide to receive the designation.
In May, DePauw was among three Indiana colleges and universities to receive Mira Awards for 361°'s "excellence in the delivery or use of technology to further learning and educational achievement" (read more here). The award was presented by TechPoint, the leading agent for change for Indiana's technology industry.
Learn more about 361° by clicking here.
Back