Tina Beverly '95 Joins Prestigious Lyric Opera Center for American Artists
October 29, 2003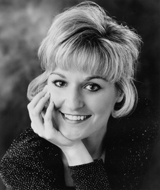 October 29, 2003, Greencastle, Ind. - Soprano Tina Beverly, a 1995 graduate of the DePauw School of Music, was recently chosen as a member of the Lyric Opera Center for American Artists for the 2004-2005 season. Approximately 525 singers of all voice types auditioned for the program nationwide. Fifteen singers competed in the final auditions on September 14th. Only two sopranos, one tenor, and two bass/bass-baritones were accepted as members of the prestigious program. A student of DePauw School of Music Professor Vergene Miller, Beverly begins her appointment with the Lyric Opera Center this March.
A native of Chicago, Beverly was the first place winner in the Society of American Musicians and NATS Competitions, second place in the Musicians Club of Women and Union League Civic and Arts Foundation Competitions, and third place in the Bel Canto Foundation Vocal Competition this year. She also recently performed a duet Lieder recital as part of Concerti di
Mezzogiorno at the Spoleto Festival in Italy. Beverly has performed as a soloist with the Music of the Baroque, DuPage Symphony Orchestra, Riverside Presbyterian Church summer concert series, in recital as part of the Unity Temple Young Artists Concert Series, and with the Handel Week Festival in Oak Park, among others. In addition, she has performed leading roles with Indianapolis Opera, Florentine Opera of Milwaukee, Brevard Music Center, Aspen Music Festival, DuPage Opera Theater, and the Rome Opera Festival in Italy.
"I am thrilled about this incredible opportunity. I am honored to have been selected and can't wait to get started," says Beverly. According to DePauw Professor of Voice Vergene Miller, the American Artist Program at the Lyric is a prestigious program for young opera singers, giving them performance, coaching, and audition opportunities. "I am thrilled that Tina will have an operatic home with one of the finest opera companies in the US," said Miller. Alicia Berneche, another DePauw graduate who took part in the same program at the Lyric,
now sings steadily all over the country. "It is a foot in the door of opera in America at the very highest level," said Miller.
This winter, Beverly will perform Mahler's Fourth Symphony and J. Strauss' Voices of Spring with the Park Ridge Civic Orchestra, the Dew Fairy in Hansel and Gretel with the University of Chicago Symphony Orchestra, Handel's Messiah with St. Ignatius in Chicago, and in recital as part of Fourth Presbyterian Church's noontime recital series. After beginning her appointment at Lyric in the spring, she will also perform in recital at the Chicago Cultural Center in Preston Bradley Hall.
Back