Six Students to Make Presentations at Geological Society of America's National Meeting
October 30, 2003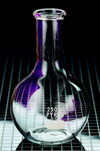 October 30, 2003, Greencastle, Ind. - Six DePauw University students from the departments of geology and geography and chemistry will be presenting the results of their summer research at the national meeting of the Geological Society of America in Seattle, Washington this weekend. Over 6,000 geologists will be attending the conference, which takes place November 1-5. Undergraduate research presentations at this meeting are unusual and reflect on the high caliber of student research at DePauw.
The research projects were funded through the Science Research Fellows Summer Research and the Faculty Development Faculty/Student Summer Research programs. The students (in bold) and their projects are listed below (names of faculty members are italicized):
"Petrogenesis of pegmatitic calcite vein-dykes, Ontario, Canada"; James G. Mills, Jr. (G&G), Kathryn M. Adank (G&G) and Christopher R. Myrvold (Chem)
.
"West Little Sugar Creek is recovering but still impacted by acid drainage from the abandoned Green Valley Mine in Southwest Indiana"; Erica Amt (G&G), Christina Houston (Chem), Andrew Turner (Chem), Jeanette Jerz (G&G), Bridget Gourley (Chem) (note: Andrew Turner cannot attend the meeting)
.
"Two- and three-dimensional modeling of detachment-style folds"; Dannena R. Bowman (G&G), Sara M. Smaltz (G&G), M. Scott Wilkerson (G&G), Camilo I. Higuera-Diaz, Mark P. Fisher.
Back