Drew Powell '98 Among Stars of Starship Troopers II
October 31, 2003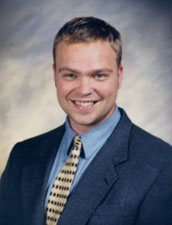 October 31, 2003, Greencastle, Ind. - Drew Powell, a 1998 graduate of DePauw University, "recently finished shooting his first feature film, notes Indiana's Zionsville Times Sentinel. "When Starship Troopers II debuts in the spring, audiences will see him starring in a lead role, as Private Kipper Tor." The story notes that "Powell grew up in Lebanon and graduated from Lebanon High School in 1994, before attending DePauw University and earning a fine arts degree. He planned on entering the field of television journalism and completed internships with WISH-TV in Indianapolis and C-SPAN. Upon graduation, though, he passed up a lucrative job in St. Louis for a position as a youth director at a North Hollywood church."
Powell tells the newspaper, "That was my first leap of faith. I wanted to be an actor, but not be foolish. I didn't take my best job offer, but went to Hollywood only because I knew I had at least something steady. I'm not the type of person who would have come out here with nothing and just try waiting tables. My parents paid too much for my education for me to do that."

Powell became active in Los Angeles theater, acquired an agent, and "In 1999, he landed a role as a cadet in military school, on FOX's newest sitcom, Malcolm in the Middle. Powell played a classmate of Francis, one of the show's main characters, for 13 episodes." Powell says, "When we shot the first season, we had no idea if the show would make it, but it ended up being Fox's biggest hit since The Simpsons. It was a learning opportunity for me. I just tried to soak in everything I could, and made a conscious decision to be nice to everybody and be polite with the people I worked with, rather than try to be any kind of self-centered Hollywood type."
Powell, a Media Fellow at DePauw, picked up guest starring roles on V.I.P and Popular as well as commercials for McDonald's and MCI, "in which Mr. T was his co-star. 'That was really cool, because I grew up watching him on The A-Team and Rocky. When I started speaking my lines and saw him off camera getting ready to come on, it was just a surreal moment.'"
Drew Powell also landed the roles of "Hoss" on the PAX network's The Ponderosa (read more here), which lasted one season. Of Starship Troopers II, "Powell said his favorite thing about the movie is that its director is a digital effects expert who worked on such films as The Empire Strikes Back and Jurassic Park. 'The effects are just unbelievable. There are a lot of cool combat sequences.' Does Powell's character live or die? 'People will just have to come watch it and find out,' he said."
Of his life as an actor, Powell tells the newspaper, ""I get to go out there and do something new everyday. It's great to come back home, but I like the roaming as well, and I never would have been able to travel this way if it wasn't for my profession. If it's all over tomorrow, I don't mind. I can say I lived my dream." Access the story in its entirety by clicking here.
Back