New Nature Park a "Strategic Asset" for DePauw's Future, Board Chair Judson Green Says
October 31, 2003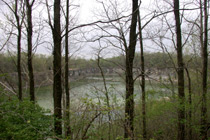 October 31, 2003, Greencastle, Ind. -
[DOWNLOAD AUDIO: "A Strategic Asset" 283KB] "I can't say enough good things about it," Judson C. Green Jr. '74, chair of DePauw's Board of Trustees, says of the DePauw University Nature Park, an approximately 480-acre site west of campus. Green spoke this afternoon at the conclusion of the Board's fall meeting, its first since the Nature Park was announced September 10 (read more here). "I think it's a strategic asset to the University. I think it will expand our horizons in terms of how we approach education, and I think DePauw is already distinctive in that respect, particularly with technology."
Like the 361° Initiatives, which were launched in March 2001 and are being nationally recognized for their innovations this fall (read more here), Green believes the Nature Park will add an "exciting new dimension" to DePauw. The land -- 280 acres of which was given to DePauw by Hanson Aggregates, which mined a quarry on the site for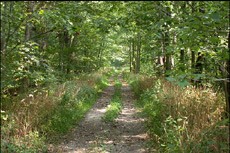 years; the company is leasing the remaining acres to the University for $1 a year -- could initially feature as many as four trails for walking, jogging, hiking and biking; arboretums; a canoe launch; and outdoor classrooms. Later additions to the site could include a lodge for retreats and overnight guests, as well as an outdoor amphitheater, but Green says the process of deciding what the Nature Park will look like should be deliberate.
Green, president and CEO of Navigation Technologies Corporation, says it's important that "we take our time to think about this and what it could be -- to move carefully and slowly in the months ahead -- because I think this is a going to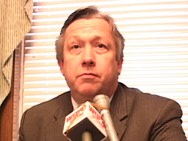 be a platform that will evolve over many, many, many years." The chairman says he's "delighted" that faculty members began holding classes at the site immediately after the announcement of the Nature Park. "If you will, this is a fabulous platform on which a lot of different activities and programs can take place... I think this is going to be, and should be, almost a never-ending process with respect to what can happen with this property and we are at the very, very earliest stages. Hardly any conclusions can be drawn at this point."
Green says the Trustees discussed a number of matters, including ongoing construction of Rector Village (read more here and here) the Coalition to Build a More Responsible Community. Launched when DePauw President Robert G. Bottoms addressed a campus "town hall" last spring (read more here), the effort is bringing together students,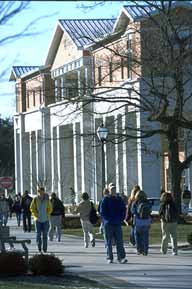 faculty, alumni and administrators to examine the issue of problem drinking and create solutions.
[DOWNLOAD AUDIO: "Distinctively DePauw" 155KB] "I think it needs to be distinctively DePauw. This can't come from a textbook, it can't come from some other university, it has to be distinctively DePauw."
The Coalition's work will eventually result in a covenant for responsible behavior, which all members of the community must abide by.
[DOWNLOAD AUDIO: "Clear Vision and Values" 319KB]"In my corporate and non-profit organizational experience, those institutions which have a clear vision and a clear set of values and behaviors that are going to be rewarded and modeled are the ones that work effectively and frankly, everyone is a lot happier when they know that."
[DOWNLOAD VIDEO: "DePauw Pride" 811KB] "We're incredibly proud of DePauw's students," Green said in closing his meeting with student journalists. The Trustees, he added, "are incredibly proud of the tradition of what DePauw students can become, what leadership potential they have to frankly make a difference in the world."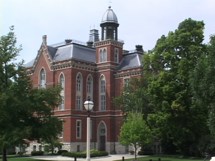 Green says, as alumni of DePauw, he and his colleagues on the Board
[DOWNLOAD AUDIO: "A Legacy of Uncommon Success" 437KB] are "connected to DePauw because that four year experience -- particularly interaction with faculty -- became, over many years of our lives and careers, the most meaningful experience in their life. We're incredibly proud of the DePauw students and very excited about the potential they have to become leaders in this world and in society and make a difference. We talk about that a lot," he added with a smile.
Back